Truck Accident in Canoga Park
Canoga Park Truck Accident Injury Lawyer - Over 40 Years of Experience You Can Trust!
Have You or Anyone You Know Suffered an Injury in a Truck Accident or Car Accident in Canoga Park?
California traffic accident statistics for 2011
California ranks second behind Texas in total fatalities for traffic accidents with 2,791
The least amount of fatalities in California traffic accidents occurred in rural areas
39.3% of the victims of traffic accidents killed in California were the driver
Source: NHTSA
Our Canoga Park truck accident injury attorneys and law office provide compassionate and aggressive legal representation for the victims of truck accidents and their families, which can include truck accidents from light minivans to heavy ballast tractors, and offer support for wrongful death claims in the community of Canoga Park in the city of Los Angeles in Los Angeles County, California. Canoga Park is surrounded by West Hills to the west, Winnetka to the east, Woodland Hills to the south and Chatsworth to the north. The Canoga Park area was part of the Mission San Fernando that was owned by Spain from 1797 to 1846 and later became controlled by Mexico in the Mexican War of Independence. When Americans took control of Canoga Park, it became an area of wheat farms and today it has developed into a developed city with currently one of the largest shopping malls on the west coast, which is known as the Westfield Topanga Mall. Canoga Park has had a few stars that resided in the area such as Bryan Cranston, who starred in the show Breaking Bad, and Eugene Selznick.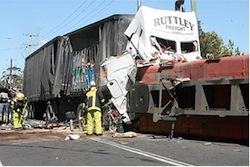 Please visit our Truck Injury Accident Web Site, where you can find more helpful information about truck accident injury claims.
Canoga Park's truck accident injury victims can suffer great emotional distress as well as physically injuries that can have a permanent negative effect on the quality of life for the victim, sometimes resulting in wrongful death claims. Truck drivers must take part in months of training and learn how to conduct careful inspections of their trucks as well as learn how to handle emergency situations caused by other drivers or the mechanical defects of their trucks. A few major reasons for truck collisions include:
Poor road conditions due to poor maintenance such as having potholes Truck or car having mechanical problem that causes driver to lose control Extreme fog to the point that a driver cannot see the lines for the lanes on the road
Evading an Accident: Tip #9-Drive Prudently Through Tunnels and Bridges
When coming up to a bridge or tunnel, it is important to use caution by reducing your speed and checking to see if other vehicles are driving carelessly, to avoid a dangerous accident. Some bridges do not have a center divider, making it more likely for a oncoming vehicle to accidentally enter your lane, which means that you must watch out for vehicles on both sides of the road. A collision on a bridge, especially with a semi-truck or big rig, can very likely force your vehicle onto the edge of the bridge and depending on the height of the bridge, create a situation where you can end up in a fatal crash. For example, a truck may collide with a smaller vehicle and the impact can force that vehicle over the side rail and have it drop from a high elevation onto the ground beneath. In addition, tunnels are dangerous by tending to have more narrow lanes and a crash in a tunnel can cause your vehicle to hit the side wall of the tunnel that can also lead to a severe injury. Larger trucks should be completely focused when going through a tunnel, because they might take up more than their own lane and if the road curves, then they need to anticipate the sharpness of the turn in the tunnel and adjust their speed accordingly. Taking these precautionary measures will ensure a safe passage through tunnels and bridges that can significantly reduce the amount of fatal truck and car crashes.
Truck Accident Injury Facts in Canoga Park
Truck accident victims face many types of injuries such as a wrist fracture. Wrist fractures are the least common type of fracture, but the majority of young adults suffer wrist fractures through a motor vehicle accident or falling from a significant height. Some of the wrist fractures only require a cast to heal, while others need surgery. Arthritis may also be a problem for those having a wrist fracture injury in their past, with some people experiencing a weakness in the radius bone earlier in their lifetime. If you or anyone you know suffered a wrist fracture in any truck accident or other personal injury accident in Canoga Park, Los Angeles or anywhere in California, please contact us now, including for referrals to doctors who may provide treatment without a request for payment until the claim is resolved.
Truck and Car Accident Injury Claims Experience You Can Put Your Trust in
Our Canoga Park truck and car accident lawyers and legal team are extremely qualified and experienced, and we offer:
Over 40 years experience successfully resolving thousands of truck accident and other personal injury cases throughout all of Canoga Park, Woodland Hills, Los Angeles, the San Fernando Valley and California
Over 95% success rate
Over $100,000,000.00 recovered
Selected Top Lawyers In California (Highest in Ethical Standards & Professional Excellence)
For more information about our senior attorneys, please visit our Attorneys' Profile Pages.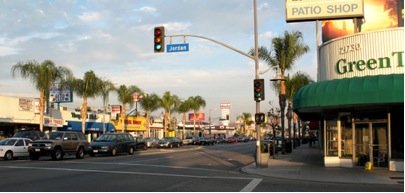 The Law Offices of Gary K. Walch, A Law Corp., provides you with the strong advocacy that you need when you or a loved one has gone through a horrible truck accident or other injury accident in Canoga Park or anywhere in California, and at the same time offers compassion and understanding to make this process easier for you and your family. It is our goal to aggressively pursue your rights and best represent your interests. Our lawyers handle accidents involving truck, car, train, bus, motorcycle, bicycle, uninsured motorist (UM), pedestrian, hit and run and much more.
Obtain a FREE Consultation By Contacting Our Canoga Park Truck Accident Injury Law Firm Today
You may call or contact our offices now for a FREE legal consultation with an experienced truck accident injury attorney or any member of our dedicated legal team:
Local: 818-222-3400 (after hours, please press 1) or
Toll Free: 866 INJURY 2 or 866-465-8792 (after hours, please press 1)
Email us: info@WalchLaw.com or click on our contact link
to tell us about your case
Remember, with our firm on truck & car accident injury cases
We offer an absolutely FREE consultation
and
There is NO fee until you win!