Truck Accident in Canoga Park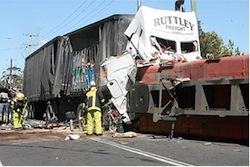 Canoga Park is a mostly residential community, with plenty of shops and restaurants, so you don't see a whole lot of big rig traffic. But it's also right off of the 101 and supplies have to get to those stores and restaurants somehow. So it's not too uncommon to pass a large eighteen-wheeler while driving down Topanga Canyon Blvd. on your way to the grocery store or work. Big rig drivers are professionals and they're supposed to follow the rules of the road and take extra precaution given their size and weight. But you know that's not always the case.
What if a truck driver is running behind and decides to run a stop sign or exceed the speed limit? Perhaps a driver didn't get enough sleep and dozes off behind the wheel? These can lead to very serious accidents with other motorists and even pedestrians. Sometimes it's a problem that's out of the driver's control, such as brake failure. In any event, it's important to understand what to do in the event of a commercial truck accident in California.
The most important thing to do after any collision is to seek immediate medical attention. But you'll also want to get in touch with a skilled Canoga Park truck accident lawyer at Walch Law, as these incidents can be tricky to sort out. The following is an overview of how fault is determined in a truck accident, the meaning of negligence, and more.
Who's at Fault for Your Canoga Park Commercial Truck Accident?
As we touched on earlier, there are several factors that may lead to a commercial truck accident. There also may be multiple parties who are at-fault, whether it's a truck maintenance provider that failed to check the brakes or a trucking company that tried to cut corners by sending out untrained drivers. Driver error, of course, is also a big factor in many of these incidents.
It really depends on the facts of your particular case. For starters, there are three main types of commercial truck drivers:
Owner-operators (they own their trucks and work as independent contractors or lease their truck from a trucking company)
Company drivers (they're employees of a trucking company, which owns the truck)
Fully independent owner-operators (these are drivers who own their trucks and haul their own loads)
This is just one reason why you may benefit from working with a Canoga Park truck accident lawyer, as these claims can get very tricky in a hurry. Attorneys know how to thoroughly investigate the claim and hold the at-fault parties responsible. Also, these other parties also have legal representation; so you don't want to be outmatched.
Establishing Negligence for a California Commercial Truck Accident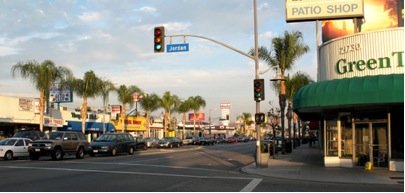 In the vast majority of commercial truck accidents where the injured party is not liable, the driver and/or other parties will be determined to be negligent. Negligence is established when a party owes a duty of care (legal responsibility to act in a reasonable manner) to another party. If a truck driver speeds through an intersection and causes an accident because they didn't leave enough space between them and the car in front of them, they may be held liable for breaching their duty of care if the driver is injured in an accident caused by the truck driver.
Truck injury claims are nearly always settled out of court but you'll still have to satisfy the following legal elements of a negligence claim:
The defendant (at-fault party) owed a duty of to the plaintiff (injured party)
The defendant breached that duty
The plaintiff's injuries were in fact caused by this breach
The defendant's actions were the proximate cause of the injury(ies), meaning the injuries would not have occurred if not for the defendant's negligence
The plaintiff has suffered actual damages (legally recognized injuries), such as bodily injury
Truck Accident Injuries: Claims for Damages
When you file your claim, you'll list damages. These are the monetary claims for losses you've suffered as a result of the at-fault party's liability. Typical damages include claims for medical expenses and lost wages. Other, less-obvious damages may include (but aren't limited to):
Disfigurement
Permanent disability
Pain and suffering
Diminished future earning potential
Loss of consortium (intimacy and affection)
How much your truck accident claim is worth really depends on so many things and requires a 1:1 meeting with us to come to an actual number.
Get Help From a Skilled Canoga Park Truck Accident Lawyer
Even though we tend to drive all the time in Southern California (how else will get anywhere?), traffic accidents are still quite common. Accidents involving big rigs can be very dangerous and even deadly. If you've been injured in a commercial truck accident, call the professionals at the Law Offices of Gary K. Walch, a Law Corporation and learn more about your claim. We know how to win these cases and are always available to our clients—call today to learn more.