Truck Accident In Banning
BANNING TRUCK ACCIDENT INJURY LAWYERS – MORE THAN THREE DECADES OF PERSONAL INJURY LITIGATION EXPERTISE YOU CAN TRUST!ARE YOU LOOKING FOR A TRUCK ACCIDENT INJURY LAWYER IN BANNING, RIVERSIDE, CALIFORNIA?
Banning fatal car crashes and road traffic accident statistics for 2011
Fatal accident count: 3
Vehicles involved in fatal accidents: 5
Fatal accidents caused by drunken drivers: 1
Fatalities: 3
Persons involved in fatal accidents: 7
Pedestrians involved in fatal accidents: 0
Source: City-data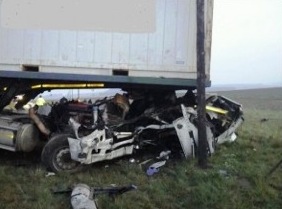 Our experienced team of personal injury, wrongful death and truck accident injury lawyers can help you pursue your rights and recover monetary damages for hospital and medical bills, loss of income, and suffering, both physical and emotional. Our Banning personal injury and wrongful death accident attorneys offer FREE consultations and case evaluations and legal services on a contingency fee basis for truck collisions, car accidents, motorcycle accidents, uninsured motorist (UM), underinsured motorist (UIM) and wrongful death claims.
Serious motor vehicle accidents, such as those involving a truck, have long-term, life changing effects on people involved in them. Head injuries, broken bones, and even death- all of these can be a legacy of a serious truck accident. Thus, if you or your loved has been involved in a truck accident in Banning, Riverside, Palm Springs or anywhere in California, you know that you need the guidance of an experienced truck accident lawyer, who can help you pursue your rights.
If you were injured in a truck or car crash, you can contact us for a completely FREE CONSULTATION. You can also check out our home page, our lawyer profiles, and our personal injury & wrongful death case testimonial pages to learn more about our Banning & Riverside truck accident personal injury & wrongful death lawyers and law offices.
About Banning
Banning is a city in Riverside County, California. It is located in the San Gorgonio Pass, which is 25 miles (40 km) west of Palm Spring and about 100 miles (160 km) east of Los Angeles. As per the 2010 United States Census, Banning had a population of 29,603.
MORE THAN THREE DECADES OF TRUCK ACCIDENT AND PERSONAL INJURY LITIGATION EXPERIENCE YOU CAN TRUST
Our personal injury lawyers and legal team of experienced truck accident attorneys and support staff will assist you in all the aspects of truck accidents, car accidents, motorcycle accidents and wrongful death claims due to death of a family member; and offer effective, aggressive representation in the event of a truck accident or other personal injury claim in Banning, Riverside or anywhere in California.
We are considered among the leading personal injury and truck accident lawyers, including due to some of the following reasons:
Tremendous experience in resolving personal injuries and wrongful death claims throughout Banning, Riverside County, Los Angeles, San Bernardino and all of California.
Success rate exceeding 95%.
More than $75,000,000 recovered.
Offer immediate assistance on property damage repair, medical attention and settlement, monetary advances, loan cars, medications, prescriptions, etc.
Selected Personal Injury Attorney of Years 2010 & 2014*
Selected Personal Injury Law Firm of Years 2011 & 2014*
CAUSES OF TRUCK ACCIDENTS & INJURIES
There are many causes of truck accidents. Some of the more common ones include the following reasons:
Distracted drivers, including using cell and other mobile devices
Lack of proper truck driving experience and training
Overloaded trucks
Failure to see other vehicles
Violation of commercial motor vehicle laws
Driving for too long without taking breaks, fatigue and falling asleep
We have expertise acquired from more than three decades of combined legal experience in handling truck, car and motorcycle accident injury claims, other personal injury and wrongful death cases throughout Banning, Palm Springs, Riverside County, Los Angeles, San Bernardino and all of California.
Call Us Now For a FREE Consultation & FREE Case Evaluation
To learn about how we can assist you further, and what you need to do to protect your rights if you were involved in a truck accident, car collision or other accident in Banning, Riverside, Los Angeles or California, please call us at 1-866-INJURY 2 (866-465-8792) or 818-222-3400 (after hours, press 1) for a FREE no-obligation consultation. Additionally, you can simply email us at info@WalchLaw.com, or just complete our easy contact form and find out what your options are and how we can help you protect your rights.
FREE Consultation and NO Fee Until You WIN!
Please call now – You will be glad that you did!
Client Reviews
You guys did a great job in settling my case! Hope you all do well and prosper. Thank you for a job well done.
Jackie C.
We had two prior attorneys who were unable to settle our car accident case. We then hired Gary and Robert Walch and they not only got us both great settlements, but personally spent time with us explaining everything clearly. We couldn't be happier. Thank you!
A.M. and M.A.
Dear Gary, I just want to thank you for working so hard on my case! I know at times we were a bit difficult, but you did a great job. I thank you and your son for good results. I will pass your number on to any one that I run across who may need a PI attorney! I send you warm regards
Julie B.
Dear Gary, I just wanted to tell you how much I appreciate all your efforts on my behalf. The car accident was a very traumatizing experience for me. But knowing that I could trust you and your son, Robert, helped alleviate my fears and worries.
Carmella C.
Thank you for all of your hard work and thank you for making it so easy over e-mail for me. I'm a busy working mom of an Autistic 5 year old son and you guys were great. I will definitely recommend your services to family and friends.
Edna G.