Thousand Oaks Uber Accident Lawyer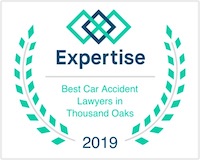 You and your friends planned on getting dinner and drinks after checking out Gardens of the World in Thousand Oaks, so naturally you decided it would be best to take an Uber (which means you can have that third drink!). On the way back home, however, your driver ran a red light (thinking the coast was clear) just as another car was crossing the intersection. They plowed into the side of your car, knocking it into a traffic light post. You and your friends are all hurt, with injuries ranging from cuts and bruises to broken bones and possible spinal injuries.
The driver was clearly in the wrong, but he was working for Uber at the time (or is he an independent contractor?). Who exactly is responsible for this mess? The answer is complicated, as you may have suspected. In order to get the best possible compensation for your injuries, you're going to need an experienced Thousand Oaks Uber accident lawyer.
The first thing you should do is seek immediate medical attention. If anyone has just minor injuries, they may want to take notes and pictures of the scene and find witnesses. We'll discuss the steps you should take if you're involved in an Uber accident, how liability and coverage is determined, and some common challenges associated with Uber claims.
After an Uber Accident
Your driver was relatively uninjured, so he attended to the passengers (including you, who suffered only minor injuries). You were able to take pictures of the scene, including the damage to both cars involved, and you jotted down notes. It was a quiet stretch of road so you didn't locate any witnesses. However, you see that there's a security camera at the intersection, so you take note of that.
It's important to obtain the following information after any automobile accident:
Names and contact information of any drivers involved in the accident
License plate numbers and descriptions of all vehicles involved
Insurance information
As an Uber passenger, you'll also want to check the following, which will help guide you and your Thousand Oaks Uber accident lawyer regarding the claim(s):
Is the driver logged into his Uber app? He should be since he was in the process of driving you and your friends. If he's not logged in, it will affect how your claim is handled.
Supposing the driver was logged in and searching for riders, then Uber provides up to $50,000 per person in injury liability ($100,000 per incident) and up to $30,000 in property damage coverage.
Drivers that have accepted a ride and are on their way or have passengers in the vehicle are covered by Uber for up to $1 million in liability coverage.
Uber's First Notice of Loss or Trip/Data Verification page allows you to verify the trip (you'll need to enter the Uber driver's name along with other details).
Your Thousand Oaks Uber accident lawyer can help you determine the next course of action, based on the information you're able to collect (don't worry, much of this can be gathered later). You'll also need to file an accident report with Uber. When you hire us, we do this for you.
Challenges Associated with Uber Claims
Regardless of the circumstances, you want to avoid accepting any early settlement offer. Whether or not it's an Uber accident, insurance companies may try to entice you with a quick settlement so they can keep the payout low and close the case. And while Uber does provide liability coverage for passengers and third parties, the claims process can be tricky (which is why you'll probably want to seek legal counsel).
Experiences may differ from claimant to claimant, but some of the more widely reported issues people have had with claims for injuries involving an Uber driver include the following:
Denial of claim (regardless of evidence suggesting the driver's fault)
Failure to reply to claims or questions about claims
Low settlement offers
Downplaying the seriousness of the injury or claiming the injury was a preexisting condition
It's important to also remember that Uber drivers are not Uber employees, so the company is not directly responsible for the acts (or negligence) of its drivers.
Get the Best Possible Settlement for Your Thousand Oaks Uber Accident Claim
Accidents happen, that's just part of life. But when the negligence or recklessness of someone else is to blame and you suffer injuries as a result, you have the right to seek monetary compensation. The process can get very complicated when it involves an Uber driver, which is why you should consider working with a Thousand Oaks Uber accident lawyer. Call the seasoned experts at the Law Offices of Gary K. Walch, a Law Corporation to learn more.