Thousand Oaks Pedestrian Accident Lawyer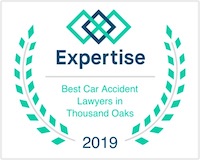 Since you live just a few blocks away from Conejo Valley High School in Thousand Oaks, where you teach math, you usually walk to work. After all, there's nothing like the warmth of the Southern California sun and the sound of the breeze through the palm trees to get going in the morning. But one afternoon, while leaving work, you were plowed into by a Prius while in the crosswalk. Thankfully they saw you and tried to stop in time, but you still suffered what you believe are torn ligaments in your knee and possibly a concussion.
If you're a pedestrian, you're especially vulnerable to the dangers of the roadway. However, it's up to motorists to always drive defensively and watch out for people in crosswalks. You did look both ways before crossing and had a walk signal, so the Prius also ran a red light (which was witnessed by dozens of people leaving school). It's not easy living in Thousand Oaks on a teacher's salary, so you're concerned about missing so much work.
We'll discuss how injury claims related to pedestrian accidents work, the types of injuries for which you may claim injuries, and the importance of having a Thousand Oaks pedestrian accident lawyer on your side. Be sure to give the highly experienced team at Walch Law a call today if you or a loved one was injured in a pedestrian accident.
California Pedestrian Accidents and Liability
Unless the motorist was intentionally trying to injure or kill you, pedestrian accidents that result in injury are typically chalked up to negligence. If a party is negligent, it means they owed you a certain duty of care. In this case, the motorist owed you a duty not only to stop for pedestrians in the crosswalk but also to yield for pedestrians wherever they may be. Automobiles are inherently dangerous, especially in the presence of pedestrians, so they owe you that extra duty.
Injury claims involving negligence must satisfy the following elements in order to prevail:
Defendant owed a duty of care to the plaintiff
Defendant breached that duty (failed to stop at the crosswalk)
Plaintiff's injuries were in fact caused by this breach
Defendant's actions were the proximate cause of the injury, meaning it was obvious to a reasonable person that those actions could cause harm
Plaintiff suffered actual damages, such as bodily injury
It's important to gather evidence, take pictures, and identify witnesses when you've been injured by another party's negligence. This type of evidence goes a long way toward bolstering your claim so if you did not have a chance to do anything at the scene, we can get it all collected when you hire us.
Putting a Dollar Amount on Pedestrian Accident Injuries
The intent of an injury claim is to seek monetary compensation for real losses stemming from the defendant's negligence. We refer to this monetary claim for injuries as damages. Some damages, such as medical bills and lost wages are easy to calculate. But other injuries aren't as apparent at first glance and the long-term effects of some bodily injuries aren't clear at first either.
Take, for example, your head injury. You have a headache after the accident, but it could be a concussion. We know that concussions can lead to serious brain injuries that cause depression, anxiety, and even violent behavior. Your Thousand Oaks pedestrian accident lawyer will insist on a very thorough medical examination in order to adequately assess the extent of your head injury. They'll also look into the long term prognosis of the torn ligaments in your knee, since they may affect your ability to walk in the future. Keep in mind that if you can't afford medical care right now, this is also something we can help you with!
As highly experienced pedestrian accident attorneys, we will be able to identify these less-obvious injuries and determine an adequate damages claim for each. Damages for pedestrian accidents may include, but are not limited to, the following:
Disfigurement or permanent disability
The cost of mobility aids or physical therapy
Pain and suffering
Diminished future earning potential
Loss of consortium (intimacy and affection)
Injured as a Thousand Oaks Pedestrian? Get Expert Legal Counsel Today
You have the right to walk to work without fear of being injured. But when a motorist fails to use proper caution and, as a result, causes you serious injuries, you have the right to file an injury claim for your losses. But having experienced counsel on your side greatly increases your chances of getting a fair and complete settlement. Contact the legal experts at the Law Offices of Gary K. Walch, a Law Corporation today and learn more.