Thousand Oaks Motorcycle Accident Lawyer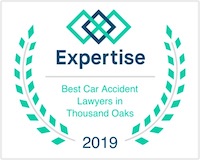 Thousand Oaks is known as a haven for off-road motorcycling and ATV riding, but you're still partial to your road bike. Fortunately, there are plenty of great roadways in the area to ride your prized Triumph Scrambler 1200. You've had your fair share of close calls (motorcycles are inherently dangerous) but nothing could prepare you for what happened a few days ago. You were merging onto Route 23 from the 101 when the car behind you was following too close and clipped your rear tire, laying down your bike and hurling you into a ditch.
Your right knee was badly damaged and the whole right side of your body suffered severe road rash. The doctors said you'd need extensive skin grafts, reconstructive surgery on your knee, and months (if not years) of physical therapy. You made the right call by contacting a Thousand Oaks motorcycle accident attorney, since you'll definitely want to file a claim for your serious injuries. Walch Law will make sure you get the most for your accident and take all our cases on a contingency fee basis meaning we don't get paid until you do!
We'll discuss injury liability law and how it applies to motorcycle accidents, including how liability is determined and the meaning of "damages."
How Liability is Determined in Motorcycle Accidents
Unless someone intentionally caused your accident (which is possible but quite rare), the person who caused the accident leading to your injuries was most likely negligent in some way. This means they acted in a careless manner or violated traffic regulations. In your case, they didn't maintain a safe distance between their front bumper and your rear tire. Skid marks on the exit ramp, witness testimony, damage to the vehicles, and other evidence paints a fairly clear picture of what went wrong.
In civil court, you're required to show that certain elements are present in order to prove liability. While the vast majority of traffic accidents are settled out of court, the same rule applies. The elements of a negligence claim are:
Defendant owed a duty to the plaintiff (for instance, they were legally required to drive safely and leave enough space between vehicles)
Defendant breached that duty (drove in an unsafe manner)
Plaintiff's injuries were in fact caused by this breach
Defendant's actions were the proximate cause of the injury(ies), meaning it was obvious to a reasonable person that those actions could cause harm
Plaintiff has suffered actual damages, such as bodily injury and other losses as a result of the defendant's actions
One of the first things your Thousand Oaks motorcycle accident lawyer will do during your initial free consultation is to make sure those elements are in fact in place. Remembering details about how the accident occurred, taking pictures, getting the contact information of witnesses, and collecting other evidence only helps in this endeavor. A strong case also will help you get the best settlement possible. If you weren't able to get any of those things, don't worry, we know how!
Calculating the Cost of Your Motorcycle Accident Injuries
Your bodily injuries include serious road rash, a shattered knee, and intense pain. But you've also lost wages from not being able to work and likely will be out much longer. In addition, you'll require extensive physical therapy, you've experienced serious mental anguish, and may not even have the will to get back on your bike again (resulting in the loss of your favorite activity). Injuries have a way of causing ripple effects throughout various aspects of your daily life. You should be compensated for those adverse effects.
When you calculate damages (aka how much your case is worth), you tally up your various injuries and losses stemming from the defendant's negligence. Your claim for damages, therefore, is meant to be monetary claim for all losses suffered. This can be tricky, especially when the future is uncertain. That's why it's so important to work with a skilled attorney who can dig deeper into the true cost of your injuries.
Damages vary by plaintiff and depend on the facts of the case and may include (but are not limited to) the following:
Cost of accessories such as crutches, wheelchairs, or other mobility aids
In-home services
Disfigurement or permanent disability
Pain and suffering
Diminished future earning potential
Loss of consortium (intimacy and affection)
Keep in mind that the at-fault party's insurance company may try to entice you with a quick settlement offer early in the process. If you haven't spoken to an attorney, you may not fully realize what those injuries will really cost you. Insurers are motivated to keep settlements low and close cases quickly, so be sure to speak with your attorney first.
Get Back on the Road with the Help of a Thousand Oaks Motorcycle Accident Lawyer
You should never feel like you're stuck with the bill when someone else's carelessness is to blame for your injuries and pain. If you've been injured in a motorcycle accident caused by another party's negligence, be sure to get expert legal help. Call the experienced professionals at the Law Offices of Gary K. Walch, A Law Corporation and get the compensation you deserve.