Thousand Oaks Lyft Accident Lawyer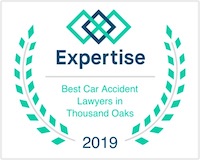 You hadn't even heard of Lyft just a week ago, but you sure do now. You were on your way to the Hope Nature Preserve for some much-needed hiking and fresh air, taking the 101 back to your Thousand Oaks apartment, when you were rear-ended by an SUV. The driver had been tailgating you for a mile or so and didn't leave enough space to slow down when the traffic in front of you came to a standstill. Now you're wearing a neck brace, unsure about the extent of you head and neck injuries, and trying to determine who's really responsible for it all.
You know the driver was at fault, but he claims he was driving for the rideshare company Lyft and had a couple of passengers in the back. You didn't know at the time, but rideshare accidents can be quite complicated to sort out, especially since there are so many parties involved. You'll probably want to contact a Thousand Oaks Lyft accident lawyer who understands the complexities of these types of incidents.
All you're concerned with is getting the proper compensation for your injuries, any physical therapy you may need, lost wages, and other damages related to the accident. The following is an overview of what to do after a Lyft accident, how Lyft claims differ from non-rideshare accident claims, and more.
After a Lyft Accident: First Steps
The driver was clearly too close to your rear bumper while you were in the right lane of 101, hoping he'd just pass you. And while you don't have evidence of that, the damage to your vehicle is consistent with rear-end collisions. Besides, the passengers were more than happy to avail themselves as witnesses to his erratic driving (and tailgating in particular).
The driver says he's covered, but make sure you get all of the following information:
Names and contact information of any drivers involved in the accident
License plate numbers and descriptions of all vehicles involved
Insurance information
The next step is to check for information that's specific to Lyft drivers, which may affect how your claim is handled and ultimately paid:
The driver should be logged into his Lyft app, but make sure (when a Lyft driver is off duty; they're covered solely by their own personal insurance policy).
If he's in driver mode but doesn't have a passenger, Lyft provides contingency coverage of $50,000 per injury, $100,000 per accident, and $25,000 in property damage coverage (in case the driver's own policy denies coverage).
Lyft also provides up to $1 million in liability coverage per accident for passengers.
Remember to report your accident with Lyft
If this all seems complicated, you're not alone. Your Thousand Oaks Lyft accident lawyer will know the best way to get you the compensation you need for your injuries. What you don't want to do is accept an early settlement offer (from any party insurance) until you'd have an opportunity to fully assess your injuries. Once you accept a settlement, your claim will be closed.
Filing Your Accident Claim with Lyft- We Take Care of Everything
The Lyft driver was clearly at fault for the accident that led to your injuries by driving in an unsafe manner (and you have witnesses), so you'll file a claim with his insurer. However, the driver's insurance company may deny the claim unless he has a special provision as a rideshare driver or a commercial driver's license. This is why Lyft provides up to $1 million in liability coverage, which is applicable to any parties that are injured in Lyft accidents.
Sounds great, right? However, claimants often have a difficult time obtaining the compensation they're owed, for a number of reasons. Injured parties filing claims involving Lyft drivers have reported problems such as the following:
Claim is denied, suggesting it wasn't the Lyft driver's fault)
Failure to reply to claims or questions about claims
Low settlement offers
Claiming your injury was a "pre-existing condition" and not in fact caused by the accident
If you don't have the help of an experienced attorney, you may not be able to get the compensation you need to cover the cost of your injuries. Besides, you need time and space to recover from your injuries and probably won't have the bandwidth to work with all of the parties involved.
Don't Leave Your Lyft Accident Injuries Up to Chance: Get Legal Help
Even more than your standard car accident, Lyft accidents can be particularly complicated to sort out. Specifically, your claim could be tied up in red tape or squabbles among different parties. An experienced Thousand Oaks Lyft accident lawyer will be able to represent your interests, not those of the insurance companies. Contact the legal experts at the Law Offices of Gary K. Walch, a Law Corporation to get help with your claim.