Thousand Oaks Dog Bite Lawyer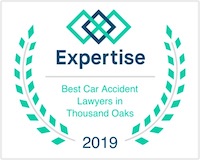 It was a gorgeous, sunny day in Thousand Oaks, so you decided to take your kids to Triunfo Park for a picnic and perhaps a little frisbee. But soon after unwrapping the egg salad sandwiches, a curious pooch (minus its owner) bounded over to investigate. You quickly put the food back in the basket, but the dog tried snatching it with its mouth. As you reflexively went to grab the basket, however, the dog snapped at you. It was a fairly deep bite on your left hand (you're a lefty) that became seriously infected after a few days.
Soon after the incident occurred, its owner finally walked over to see what the fuss was. He seemed surprised that his dog bit you, saying she's a "free spirit" who doesn't like to be on a leash, even though signs clearly state that dogs must be on a leash. You didn't realize the bite was so serious at the time, but you chose to follow your instincts and spoke with a Thousand Oaks dog bite injury lawyer just to be on the safe side.
Good thing you gave the highly experienced team at Walch Law a call since you nearly lost two fingers from the infection that resulted. You had to stay in the hospital overnight, which means you missed work and had to scramble for backup care for your three children. When someone is responsible for their dog biting you and causing injury, you have the right to seek compensation. We'll discuss how liability is established for dog bite injuries in California and how damages are calculated.
California Dog Bite Liability: Who's Responsible?
California law applies what is called strict liability for injuries suffered as a result of dog bites. This means the dog's owner bears financial responsibility for injuries that occur when their dog bites an individual, regardless of the owner's actions or inactions (i.e., negligence does not have to proven in these cases). This does not, however, including non-bite injuries (a large dog knocking someone over, for example). Some states have a "one bite rule," in which dog owners are put on notice after the first bite but aren't held liable unless it can be proven that they were negligent.
However, in California strict liability doesn't apply to the following scenarios involving dogs and injuries:
Injuries not resulting from bites
Police or military dogs performing their official duties
When trespassers are bitten
When the dog is provoked or teased
Individuals who are not the dog's owner
Had the owner walked over and said hello with their dog safely on a leash, as required by local ordinance, and followed all other rules and regulations, he still would have been liable for injuries resulting from the bite. But since he was negligent (and there are witnesses), you may also be able to claim negligence.
Negligence Per Se for Dog-Related Injuries
Since you suffered injury as a result of a dog biting you, you don't have to show that the owner was negligent. But since he failed to keep his dog on a leash in a public park (although there are several enclosed, off-leash dog parks in Thousand Oaks), you may also be able to claim "negligence per se." This doesn't mean you'll get double the compensation, but it could help bolster your claim and would be beneficial in cases where the plaintiff suffered non-bite injuries or where the dog was under the control of someone other than the owner. As dog bite lawyers, we are always trying to make sure you get the maximum payments for your injuries!
"Negligence per se" means the owner failed to follow animal control procedures, ignored leash laws, or otherwise failed to act in a reasonable manner. In any event, your Thousand Oaks dog bite injury lawyer will be able to properly investigate and position your claim in a way that gives you the chances of obtaining fair compensation.
Damages for Thousand Oaks Dog Bite Injuries
Since the injury turned out to be much worse than originally feared, it was smart to wait until speaking with an attorney before accepting a settlement offer. This is often the case with injuries, where the initial incident is just the tip of the iceberg. And unless you're a seasoned injury lawyer, you may not fully realize just how much of your life is affected by one simple dog bite. When we place a monetary value on injuries when filing a claim, we refer to them as damages.
These may include, but aren't limited to, the following:
Medical expenses
Pain and suffering
Loss of a limb
Disfigurement
Lost wages
Diminished future earning potential
Loss of enjoyment of life
Don't Let a Dog Bite Set You Back: Get Legal Help Now
One thing a lawyer can't do is go back in time and make the injury-causing incident disappear, but they can fight to get you the monetary compensation you deserve for your suffering. If you've been injured by a dog bite or other injury, make sure you discuss it with an experienced Thousand Oaks dog bite injury lawyer. Contact the professionals at the Law Offices of Gary K. Walch, a Law Corporation to learn more. We have over 45 years of experience and treat every client like family—we are ready to get started when you are. It only takes one call!