Thousand Oaks Car Accident Lawyer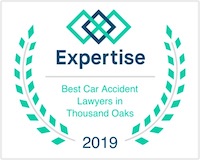 You live for the weekends, which is your time to explore the natural beauty of Southern California. Last weekend you went hiking at Wildwood Regional Park near your home in Thousand Oaks, enjoying the splendor of Paradise Falls after a vigorous trek through the park. All you could think about on your way home was taking a shower and relaxing on the porch with a cold beer, but that image was shattered by the sound of crunching steel and broken glass. As you were crossing Lynn Rd., another car decided to make a left turn but didn't leave enough room, sideswiping your rear right fender.
After the initial shock passed, you realized your leg and collarbone were broken and you felt dizzy. You had the right-of-way, so it was clearly the other driver's fault. You won't be hiking anytime soon, you'll probably have to miss some work, you haven't come close to your medical insurance deductible, and you're also worried about your head injury.
Does the other driver have adequate insurance coverage? Will I be fairly compensated for my injuries? Should I get in touch with a Thousand Oaks car accident lawyer? How do I find the best Thousand Oaks car crash lawyer? All of these questions were swirling through your mind as you answered the officer's questions and were taken to the hospital. We'll discuss the basics of car accidents, including how liability is established and the types of injuries you may claim.
Liability for Car Accidents: The Basics
There are four main types of fault for accidents, which establish liability. When some is liable for another party's injuries, it means they're financially responsible for compensating the injured party. The four types of fault are:
Negligence (the most common type of fault in car accidents)
Recklessness (the person knew or should have known their actions could injure others)
Intent (they intended to cause harm)
Strict liability (a party is responsible for injuries regardless of mental state, such as automobile manufacturers)
Most car accidents involve negligence, so we'll focus on that. When someone is negligent, it means they owed you a duty and breached that duty. Using the example above, the at-fault motorist owed a duty to yield to you (since you had a green light and thus the right-of-way). More broadly, they owed a duty to follow traffic signals and rules. By taking that turn too early and causing an accident, they breached that duty.
In order to prove negligence, the plaintiff must show the existence of the following elements:
Defendant owed a duty to the plaintiff
Defendant breached that duty
Plaintiff's injuries were in fact caused by this breach
Defendant's actions were the proximate cause of the injury(ies), meaning it was obvious to a reasonable person that those actions could cause harm
Plaintiff has suffered actual damages (legally recognized injuries), such as bodily injury
If it's established that the defendant is liable for the plaintiff's injuries (with the help of a Thousand Oaks car accident lawyer), then they must compensate the plaintiff monetarily.
Claiming Damages for Car Accident Injuries
Certain damages are fairly straightforward, such as the cost of ambulance, medical care, physical therapy, and any other related costs, which may also include lost wages. But injuries have a way of causing ripple effects throughout people's lives. For example, if you're an avid hiker and won't be able to hike for some time as you recover, then you most certainly are experiencing a diminished quality of life. And what about that head injury? Doctors don't always know right away how serious head injuries are.
Other expenses that may be claimed as damages in relation to a car accident include:
Accessories such as crutches, wheelchairs, or other mobility aids
In-home services
Disfigurement or permanent disability
Pain and suffering
Diminished future earning potential
Loss of consortium (intimacy and affection)
So while a negligence ruling in your favor can't "fix" your injuries, per se, it's the best available option for compensating plaintiffs who are injured due to someone else's carelessness. A skilled attorney will be able to calculate the monetary value of your claim and make sure that the money you get fully reflects the impact the car crash has had on your life.
Get Professional Help With Your Thousand Oaks Car Accident Claim
No, you can't go back in time and erase what happened. But you can work with a Thousand Oaks car accident lawyer to receive monetary compensation for your pain. If you go it alone, you may come up short. If you've been injured, don't delay; contact the skilled professionals at the Law Offices of Gary K. Walcy, a Law Corporation, today.