Sherman Oaks Car Accident Injury Lawyer
Over 45 Years of Experience You Can Trust!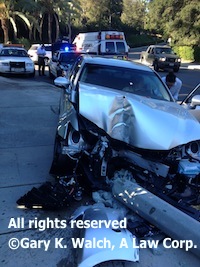 Our Sherman Oaks car accident lawyers and law firm provide expert personal injury legal services for those injured in auto, motorcycle and other accidents, and for the relatives and families of those killed in car and other accidents for wrongful death claims, in Sherman Oaks, California, a neighborhood located in Los Angeles, California. If you had a car accident or other personal injury claim in Sherman Oaks or anywhere else in California, please contact our attorneys and legal team now for a completely FREE CONSULTATION. Sherman Oaks is a well-educated neighborhood in the San Fernando Valley region of the city of Los Angeles. The neighborhood is bordered by Van Nuys and Valley Glen on the north, Valley Village and Studio City on the East, Beverly Crest and Bel-Air on the south, and Encino on the west. As of the 2010 U.S. Census, Sherman Oaks has a population of 52,677 people.
Total Fatalities and Alcohol-Related Fatalities in 2003 and 2004 in California
Total fatalities in 2003 - 4,224
Alcohol related fatalities in 2003 - 1,629
Total fatalities in 2004 - 4,120
Alcohol related fatalities in 2003 - 1,643
Source:
National Highway Transportation Safety Administration
---
California Traffic Safety Statistics for December 2012
In 2011, California's traffic fatalities increased 2.6 percent (2,720 vs. 2,791)
It is still one of the lowest levels since the federal government began recording traffic fatalities in 1975
California 2010 Mileage Death Rate (MDR) – fatalities per 100 million miles traveled is 0.84
Marks the second time California has been below 1.0
Source:
California Office of Traffic Safety
A Sherman Oaks car accident can result in painful injuries and be extremely traumatizing for the victims involved so it is very important to have an experienced car accident lawyer on your side. Our senior attorney has over 45 years of personal injury experience and our lawyers and staff have successfully resolved many thousands of car injury accident cases. Our aggressive but compassionate attorneys and staff work extremely hard to make the claims process easy for our clients, the victims and their families. We invite you to visit our new and updated Car Accident Web Site.
The Walch Law Corporation has successfully recovered over $100,000,000.00 in funds for its clients and provides immediate help with medical care (usually without any payment until the case is resolved), specialists, property damage repair and settlement and recently was selected as the Personal Injury Law Firm of the Year. Our law firm invites you to read our Car Accident Testimonial Pages simply by clicking here.
One unfortunate but very common injury that victims of car accidents experience is brain injury. Brain injuries are caused in many ways, including by car accidents, motorcycle accidents and from bumps, blows, or jolts to the head or a penetrating head injury that disrupts the normal function of the brain. These injuries are painful and the severity of any brain injury may range from mild to severe and can cause an extended period of unconsciousness or amnesia after the injury. All these injuries range from torn muscles to a complete loss of function in parts of the body. The Centers for Disease Control estimates that about 2.3 million victims of auto related accidents were treated in 2009. Additionally the long-term costs of crash-related casualties were $70 billion in 2005.

The Law Offices of Gary K. Walch provides you with the strong advocacy that you need when you or a loved one has been through a devastating car accident or other personal injury accident in Sherman Oaks or anywhere in California. It is our job to best represent your interests and aggressively pursue your rights. Our staff handles accidents involving car, motorcycle, truck, bus, train, bicycle, pedestrian, hit and run, uninsured motorist (UM) and much more. Call us for an absolutely FREE consultation to review and analyze your car accident or other personal injury case. For your convenience you don't even need to leave the comfort of your own home. Just like many of our clients you can do everything by telephone at 818-222-3400 or toll free 866 INJURY 2 (465879 2), email (info@WalchLaw.com) or simply complete our very easy to use contact form.
FREE CONSULTATION- NO FEE UNTIL YOU WIN!
EXPERIENCE YOU CAN TRUST