Santa Ana Car Accident Injury Lawyer
Over 45 Years of Experience You Can Trust!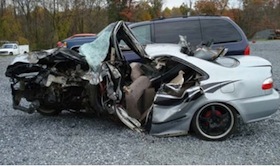 Our Santa Ana car accident law firm provides expert personal injury legal services for those injured in auto, motorcycle and other accidents and for the relatives and families of those killed in car and other accidents for wrongful death claims in Santa Ana, California, a city located in Orange County, California. If you had a car accident or other personal injury claim in Santa Ana or anywhere else in California, please contact our legal team now for a completely FREE CONSULTATION. Now fully developed, Santa Ana has several distinct districts. The core of the city is the downtown area, which contains retail and housing, as well as the Santa Ana Civic Center which is a dense campus of administrative buildings for both the city and the county of Orange. According to the 2010 U.S. Census, Santa Ana is home to 329,427 people, making it the 57th most-populous city in the United States.
Santa Ana Fatal Car Crashes and Road Traffic Accident Statistics in 2011
Fatal accident count: 9
Vehicles involved in fatal accidents: 9
Fatal accidents caused by drunken drivers: 1
Persons involved in fatal accidents: 12
Pedestrians involved in fatal accidents: 9
Source:
City-Data
---
National Survey Results on Drug Abuse and Alcohol for February 2013
Almost half of all drivers who were killed in crashes and tested positive for drugs also had alcohol in their system
About one-third of all drivers arrested or convicted of driving while intoxicated or driving under the influence of alcohol are repeat offenders
Over 1.41 million drivers were arrested in 2010 for driving under the influence of alcohol or narcotics
Among persons aged 12 or older, males were more likely than females (15.1 vs. 7.9 percent) to drive under the influence of alcohol in the past year
Source:
Mothers Against Drunk Driving
A car accident is a serious matter that can be devastating for the victims involved and can have terrible outcomes and have long-lasting physical and emotional effects on the victims so it is very important to have an experienced lawyer on your side. In our over 45 years of personal injury experience we have successfully resolved thousands and thousands of car injury accident cases. Our aggressive but compassionate Attorneys and staff work extremely hard to make the claims process easy for our clients, the victims and their families. We invite you to visit our new and updated Car Accident Web Site.
The Walch Law Corporation has successfully recovered over $100,000,000.00 in funds for its clients and provides immediate help with medical care (usually without any payment until the case is resolved), specialists, property damage repair and settlement and was selected as the Person Injury Law Firm of Year 2011. We invite you to read our Car Accident Testimonial Pages by clicking here.
One common case that our lawyers handle is a wrongful death claim. In California, generally each wrongful death claimant is entitled to money damages for all harm suffered and likely to suffer in the future due to the victim's death. The victim's death must be shown to be caused by the wrongful act or negligence of another. Many of these wrongful deaths result from car accidents, fires, falls and other accidents. The responsible party must have been a substantial factor or probable cause of death. We understand that wrongful death can be extremely traumatizing for the entire family. Calling the right Santa Ana and California wrongful death car accident personal injury lawyer can help you obtain the assistance, justice and peace of mind that you deserve.
The Law Offices of Gary K. Walch provides you with the strong advocacy that you need when you or a loved one has been through a devastating car or other personal injury accident in Santa Ana or anywhere else in California. It is our job to best represent your interests and aggressively pursue your rights. Our staff handles accidents involving car, motorcycle, truck, bus, train, bicycle, pedestrian, hit and run, uninsured motorist (UM) and much more. Call us for an absolutely FREE consultation to review and analyze your personal injury case. For your convenience you don't even need to leave the comfort of your own home. Just like many of our clients you can do everything by telephone toll at free 866 INJURY 2 (465879 2), email (info@WalchLaw.com) or simply complete our very easy to use contact form.
FREE CONSULTATION- NO FEE UNTIL YOU WIN!
EXPERIENCE YOU CAN TRUST