Personal Injury Accident in of Los Angeles or L.A., California
Living in Los Angeles is an adventure, whether you're white-knuckling your way through traffic, catching a Dodgers game, or strolling along the beach. But with adventure comes the prospect of accidents, which can lead to serious injuries. Taking a calculated risk is one thing; but when the carelessness of someone else is to blame for your injuries, it can be downright frustrating. Fortunately, you have the right to file a personal injury claim if you've suffered injuries due to another party's negligence or intentional act and get paid for the physical and emotional damage their actions have caused.
Most claims are settled out of court and traffic accident injuries typically settle through insurance companies, but it's always good to be prepared for a possible trial. An experienced Los Angeles personal injury lawyer will know how best to position your claim if you've been injured—Walch Law is who you want on your side. We take all our cases on a contingency fee basis meaning you don't pay us a thing until we get you paid. The following primer will help you understand how liability is established and how damages for injuries are claimed.
The Basics of Fault and Negligence in California
If someone is careless or fails to act how a "reasonable person" would in a similar situation, they are considered negligent. For example, one common injury claim involves slip and fall injuries. A reasonable shopkeeper would make sure that a broken bottle of olive oil is adequately cleaned up as soon as possible, knowing that it presents a hazard for shoppers. If they fail to do so, then they may be found negligent if a customer slips, falls, and becomes injured as a result of this failure.
Injury claims require the injured party (the plaintiff) to prove the existence of certain elements. The elements of a California negligence claim are:
Defendant (at-fault party) owed a duty of care to the plaintiff (for example, to maintain a safe walkway in their shop)
Defendant breached that duty (failed to clean up a dangerous spill)
Plaintiff's injuries were in fact caused by this breach (plaintiff slipped and fell on the spilled oil, and was injured when they fell)
Defendant's actions were the proximate cause of the injury(ies), meaning they wouldn't have occurred if not for the negligence of the defendant (the plaintiff was not being careless as they walked and would not have fallen had the spill been properly cleaned up)
Plaintiff has suffered actual damages, such as bodily injury (plaintiff suffered a sprained ankle and several cuts from broken glass)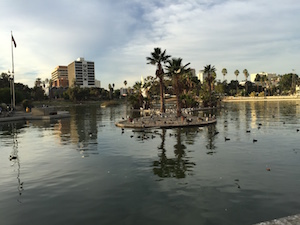 If you owe someone a duty of care, it means you're legally required to do something (or refrain from doing something) in order to prevent injury. If you're a motorist, you owe a duty of care to other motorists by following the rules of the road and driving defensively. If you're a shopkeeper, you're required to clean up potential hazards as soon as possible. To breach that duty is to fail to act as a "reasonable person" would act in a similar situation. A reasonable person would see that spilled oil would be very slick and that broken glass could cause serious injury after a fall on the oil.
If the accident doesn't result in injury, then the plaintiff can't collect (keep in mind that not all injuries are bodily injuries). But if their negligence results in injuries, the plaintiff may file a claim for damages, which is a monetary claim for injuries. Your Los Angeles personal injury lawyer will be able to guide in this process, as it can sometimes be quite complex and requires both experience and skill. Ultimately our goal at Walch Law is to get you the most for your injuries are quickly as possible—we know this money is helpful and a long case is not what you want. Give us a call now to learn more.
Strict Liability and Intentional Acts
In some cases, the defendant may be liable for your injuries solely because they produced or sold an item that caused it. In these cases, you don't have to prove negligence or intent.
The elements of a strict liability claim are:
Product was unreasonably unsafe or dangerous when it was designed, manufactured, or sold
Seller expected and intended that the product would reach the consumer without changes to the product
Plaintiff was injured by the defective product
Sometimes an intentional act is to blame for your injuries. These often are charged as crimes in addition to giving rise to civil liability. For example, assault and battery are both crimes and civil torts (wrongful acts that lead to civil liability).
Claiming Damages for Personal Injuries
Most personal injury claims include medical expenses (hospital, ambulance, medications, etc.) and lost wages from missed work. But that's often just the tip of the iceberg, since injuries can impact multiple areas of our lives.
Damages also may include, but are not limited to, the following:
Disfigurement or permanent disability
Pain and suffering
Diminished future earning potential
Loss of enjoyment of life
Loss of consortium (intimacy and affection)
Contact a Top Los Angeles Personal Injury Lawyer Today
You shouldn't be saddled with expenses when someone else is to blame for your injuries. You have the right to seek compensation and have better odds of obtaining a fair settlement when you work with legal counsel. If you've been injured in L.A. and someone else is to blame, contact the experts at the Law Offices of Gary K. Walch, a Law Corporation today. Not only will we work hard to get you the highest settlement possible but we can also help with things like getting your medical care now if you can't afford it. When you hire Walch Law you hire a highly talented team of lawyers that are family and treat you like family too—get in touch now to learn more.