Personal Injury Accident in Downey, California
Gary K. Walch - Personal Injury and Accident Attorney for Downey
45 Years of Experience You Can Trust! Call Our Office Right Away at 1-866-INJURY2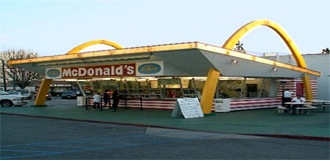 The Law Offices of Gary K. Walch, A Law Corporation, offers legal assistance to the residents of the city of Downey, California. If you are someone who has had an accident or personal injury in the area, please call us immediately for a FREE consultation of your claim.
Today, the city of Downey is known for its great retail stores and quality housing, but there is much more to Downey than that. Downey is a major hub in Southern California. Located in the center of Los Angeles County, Downey is home to various historic landmarks. Some of these attractions include: the world's oldest McDonalds, the first ever Taco Bell, and was the city that inspired many of The Carpenters hit songs.
Downey is a city that still has a small town feel, even though there are over 110,00 residents. Downey residents have a great community that holds on to its history. Due to its centralized location, Downey is highly recognized for its distance to business districts, residential neighborhoods, and beautiful golf courses to match the lifestyle of the residents. At one point, Downey was even rated in the top 25% of the "Top 100 Cities to do Business in California".
However, because of its busy centralized location, injury and accidents are a common occurrence in the city of Downey.
Our law offices serve the entire state of California, covering cities from San Diego all the way up to the San Francisco Bay Area.
The Law Offices of Gary K. Walch, A Law Corporation, has compiled a team of caring and compassionate attorneys that are here to help you with your personal legal situation. Our team helps you by handling your injury claim and dealing with insurance companies to make your life as easy as possible.
Our staff strives to make your situation as bearable and painless as can be. Our experienced team of lawyers have won an amazing 98% of the cases we have been assigned and have recovered millions of dollars to date.
You're covered immediately. Get in touch with us as soon as possible for assistance on your personal injury or accident claim.
Not sure if The Law Offices of Gary K. Walch, A Law Corporation, is the right fit for you? Feel free to read some of our testimonials before making your decision. We know you will love the service we provide for you and your family.
We cover the full spectrum of personal injury and accident law. Our areas of practice include: car accidents, truck accidents, motorcycle accidents, bicycle accidents, and all other vehicle accidents. Have an accident that is not listed here? Do not worry! The Law Offices of Gary K. Walch, A Law Corporation, is here to help!
Want to know the areas of personal injury we cover? A few of the injuries include: dog bite and dog attack accidents, burn, wrongful death, slip, fall, trip, hit and run, and many, many more.
Our law office offers a 100% FREE initial consultation to discuss the issues pertaining to your personal injury or accident claim. During that first meeting, we will go over your case in detail with you and make sure we have a firm understanding of the situation you are in. Then, if you choose to go with us, you will have a team of experienced attorneys that will be with you every step of the way.
Need help getting to our office located in Calabasas, CA? We have very easy directions for you to use. Start by taking the I-5 North to the 101 Freeway, also known as the Hollywood/Ventura Freeway to the Mulholland/Valley Circle off ramp.
From there, proceed over the freeway bridge and make an immediate right onto Calabasas road. Continue onto the aforementioned street, drive by the Wells Fargo Bank and Trader Joe's - both located on the right hand side of the street - stores and our office is located on the right side of the street.
There is FREE parking on the West side of our building, which is located at 23801 Calabasas Road, Suite 1019, Calabasas, CA.
We look forward to seeing you soon! Remember to call ahead to schedule a FREE CONSULTATION! Feel free to give us a call at 818-222-3400 (if you are calling after offices hours, please press the number 1), or send us an email at info@walchlaw.com. You can also use our simple online form and we will get back to you as soon as possible.
Is there a fee associated with your case? No! There is absolutely NO FEE until we win your case.