Moreno Valley Car Accident Injury Lawyer
Over 40 Years of Experience You Can Trust!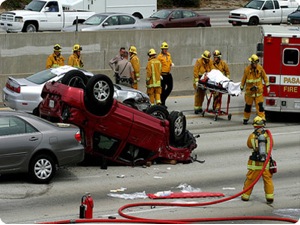 Our Moreno Valley car accident lawyers and law firm provide expert personal injury legal services for those injured in car, motorcycle, truck and other accidents, and for the relatives and families of those killed in car and other fatal accidents, for wrongful death claims in Moreno Valley, California, a city located in Riverside County, California. If you had a car accident or other personal injury claim in Moreno Valley, Riverside or anywhere else in California, please contact our legal team now for a completely FREE CONSULTATION . For additional helpful information about car accident injury claims, please visit our updated and comprehensive Car Accident Web Site simply by clicking here.A relatively young city, Moreno Valley's rapid growth in the 1980's and the first decade of the 21st century made Moreno Valley the second-largest city population wise in Riverside County. According to the 2010 U.S. Census, Moreno Valley is home to 193,365 people.
Fatal Car Crashes and Road Traffic Accident Statistics for 2011
Fatal accident count: 1
Vehicles involved in fatal accidents: 1
Fatal accidents caused by drunken drivers: 0
Persons involved in fatal accidents: 1
Pedestrians involved in fatal accidents: 1
Source: City-Data
---
National Survey on Drug Use and Health for 2010
The drug rate was highest among persons aged 21 to 25 (23.4 percent)
An estimated 5.8 percent of 16 or 17 year olds and 15.1 percent of 18 to 20 year olds reported driving under the influence of alcohol in the past year
Beyond age 25, these rates showed a general decline with increasing age
The highest percentage of drunk drivers was for drivers ages 21 to 24 (34 percent)
Source: Mothers Against Drunk Driving
A Moreno Valley car accident can severely injure people and be extremely traumatizing for the victims involved, so it is very important to have an experienced car accident lawyer on your side. In our over 40 years of personal injury experience we have successfully resolved thousands and thousands of car injury and other personal injury accident cases. Our aggressive but compassionate attorneys and staff work extremely hard to make the claims process easy for our clients, the victims and their families. We invite you to visit our new and updated Car Accident Web Site.
The Walch Law Corporation has successfully recovered over $100,000,000.00 in funds for its clients and provides immediate help with medical care (usually without any payment until the case is resolved), specialists, property damage repair and settlement and was selected as the Person Injury Law Firm of Year 2011. Two of our senior car accident attorneys, Robert Walch and Gary Walch, were each selected as Top Lawyers in California (Highest in Ethical Standards & Professional Excellence). We also invite you to read our Car Accident Testimonial Pages by clicking here.
One unfortunate but common injury that victims of car accidents experience is whiplash. Whiplash is a non-medical term describing a range of injuries to the neck caused by or related to a sudden and abnormal motion to the neck. A whiplash injury may be the result of abnormal stretching of the spine, mainly the anterior longitudinal ligament (the ligament that runs down the anterior surface of the spine) which is stretched or tears, as the head snaps backwards and then forward causing a whiplash type injury. These extreme motions push the neck muscles and ligaments beyond their normal range of motion, causing injury. The most common symptoms related to whiplash injury from accidents include neck pain and stiffness, headache, shoulder pain and stiffness, dizziness, fatigue, jaw pain, arm pain, arm numbness and weakness, visual disturbances, ringing in the ears and back pain. Proper medical care is necessary and our firm is able to provide names of multiple doctors to treat such problems without any advance payment.
The Law Offices of Gary K. Walch provides you with the strong advocacy that you need when you or a loved one has been through a devastating accident. It is our job to best represent your interests and aggressively pursue your rights. Our staff handles accidents involving car, motorcycle, truck, bus, train, bicycle, pedestrian, hit and run, uninsured motorist (UM) and much more. Call us for an absolutely FREE consultation to review and analyze your Moreno Valley, Riverside or California personal injury case. For your convenience, you don't even need to leave the comfort of your own home. Just like many of our clients you can do everything by telephone toll free at 866 INJURY 2 (465 879 2), email (info@WalchLaw.com) or simply complete our very easy to use contact form.
FREE CONSULTATION- NO FEE UNTIL YOU WIN!
EXPERIENCE YOU CAN TRUST
CALL US - You will be glad you did:
Phone: (951) 999-8459 or 951-999-8GKW
Toll Free: 866-465-8792 or 866-INJURY 2
Main Phone: 818-222-3400