Moreno Valley Car Accident Injury Lawyer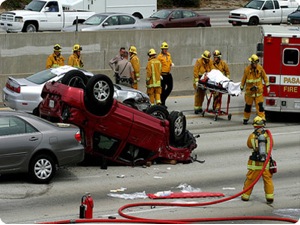 Moreno Valley is a city located in Riverside County, California. It's a historic town, home to March Field, a U.S. Air Force base and the famous Riverside International Raceway, a famous old race car track that operated until the late 1980s. Today, more than 200,000 people live in Moreno Valley which means lots of drivers on Moreno Valley roads and the surrounding freeways. As a result, car accidents occur regularly in Moreno Valley, and unfortunately, many of these accidents result in personal injuries.
Fatal Car Crashes and Road Traffic Accident Statistics for 2011
Fatal accident count: 1
Vehicles involved in fatal accidents: 1
Fatal accidents caused by drunken drivers: 0
Persons involved in fatal accidents: 1
Pedestrians involved in fatal accidents: 1
Source: City-Data
---
National Survey on Drug Use and Health for 2010
The drug rate was highest among persons aged 21 to 25 (23.4 percent)
An estimated 5.8 percent of 16 or 17 year olds and 15.1 percent of 18 to 20 year olds reported driving under the influence of alcohol in the past year
Beyond age 25, these rates showed a general decline with increasing age
The highest percentage of drunk drivers was for drivers ages 21 to 24 (34 percent)
Source: Mothers Against Drunk Driving
Car Accident Personal Injury Claim
If you are injured in a Moreno Valley car accident, you may have a right to compensation for your injuries. You can receive this compensation by bringing a personal injury claim against the driver responsible for your injuries. To bring a successful personal injury claim, you need to show that another driver's intentional bad driving or negligent driving caused the accident that left you with injuries. You can demonstrate fault by showing the other driver caused the accident due to:
Driving under the influence of drugs or alcohol
Speeding
Disobeying traffic laws (running red lights, improper turns, etc)
Not paying attention (distracted driving)
Texting while driving
Car accident injuries can require expensive medical care and a lengthy recovery time before you are back to your old self. The purpose of a personal injury claim is to get you financial compensation for these damages (the legal term for the losses caused by your injuries) you have suffered due to your injuries. Damages available in a personal injury case include compensation for:
Medical bills
Physical therapy expenses
Lost Wages (if your injuries made you miss work)
Lost earning capacity (if you can't go back to work)
Pain and suffering
Other damages available under California law
To help you with your claim, so you can get the damages you deserve, it can be helpful to talk to a personal injury attorney who has experience handling car accident cases. An attorney can make all the difference in helping you get the best possible outcome in your case.
How a Moreno Valley Lawyer Can Help
If you have been injured in a car accident in Moreno Valley, you should contact a skilled Moreno Valley Lawyer who can help you with your personal injury claim. An experienced car accident attorney can be by your side through every step of the personal injury claim process. An attorney can help:
Investigate and gather information to support your claim--In your personal injury claim, you will need to show that the car accident that resulted in your injuries was caused by another person. Your attorney can help with the investigation to show fault, and gather other medical records and reports necessary to support your claim.
Talk to insurance companies--Insurance companies will be involved in the personal injury process as many times, the driver-at-fault's insurance will be responsible for covering the damages awarded in the case. Dealing with insurance companies can be frustrating, instead let your attorney handle working with them.
Negotiate settlements--personal injury cases often require negotiation between the parties involved. Your attorney can negotiate on your behalf to maximize your compensation.
Represent your case in court--If your case goes to trial, an experienced personal injury attorney can help represent your case in court. While going to trial is not common, your attorney will be ready to help with this step when necessary.
Get Help With Your Moreno Valley Car Accident Case Today!
Dealing with injuries after a car accident can be stressful and frustrating. The idea of having to fight for compensation for your injuries can feel totally overwhelming. This is where an experienced Moreno Valley car accident attorney can step in and help. At Walch Law, our attorneys have decades of experience helping victims of car accidents. We know what it takes to bring a successful case and we are willing and ready to help you with your case.
If you had a car accident or other personal injury claim in Moreno Valley, Riverside or anywhere else in California, please contact our legal team now for a completely free consultation. During our free consultation we can answer any questions you may have about the personal injury claim process and let you know how we can help. Call us today at 866-465-8762!
CALL US - You will be glad you did:
Toll Free: 866-465-8792 or 866-INJURY 2
Main Phone: 818-222-3400