Malibu Car Accident Injury Lawyer
Malibu Fatal Car Crashes and Road Traffic Accident Statistics for 2011
Fatal accident count: 3
Vehicles involved in fatal accidents: 8
Fatal accidents caused by drunken drivers: 0
Persons involved in fatal accidents: 6
Pedestrians involved in fatal accidents: 0
Source: City-Data.com
California Pedestrian and Bicycle Safety for March 2013
Bicycle fatalities increased 13.2 percent from 99 in 2010 to 114 in 2011
Pedestrian fatalities increased 3.9 percent from 601 in 2010 to 625 in 2011
Pedestrian fatalities age 65 and older increased slightly from 150 in 2010 to 151 in 2011**
Over 40 Years Of Experience You Can Trust!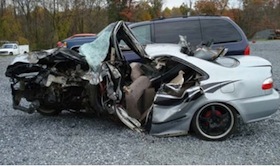 Our Malibu car accident attorneys and law firm provide expert personal injury legal services for those injured in auto, motorcycle and other accidents, and for the relatives and families of those killed in car and other fatal accidents for wrongful death claims, in Malibu, California, including the Pacific Coast Highway (PCH), a city located in northwestern Los Angeles County, California. If you had a car accident or other personal injury claim in Malibu, Santa Monica, Los Angeles or anywhere else in California, please contact our car accident injury attorneys and legal team now for a completely FREE CONSULTATION. For additional helpful information, please visit our updated and comprehensive Car Accident Web Site simply by clicking here. Malibu is world famous for its scenic beaches, the Pacific Coast Highway (PCH), beautiful homes to the rich & famous, and is bounded by Topanga Canyon to the east, the Santa Monica Mountains to the south, and Ventura County to the west. As of the 2010 United States Census, the city population was 12,645.
A Malibu car accident is not just dangerous but can also be very traumatizing for the victims involved and can result in severe injury so it is very important to have an experienced car accident lawyer on your side. Our over 40 years of achievement in handling car accident and other personal injury cases in Malibu, Santa Monica and throughout California has given us the recognition of PERSONAL INJURY LAW FIRM OF THE YEAR; and two of our senior attorneys, Robert Walch and Gary Walch, were each selected as Top Lawyers in California (Highest in Ethical Standards & Professional Excellence). Our aggressive but compassionate attorneys and staff have resolved thousands and thousands of car accident cases and work extremely hard to make the claims process trouble-free for our clients, the victims and their families. We invite you, when time, to visit our new and updated Car Accident Web Site.
The Walch Law Corporation has effectively obtained more than $75,000,000.00 in funds for its clients and provides immediate help with medical care (usually without any expense from you until the case is resolved), specialists, property damage repair and settlement. Our lawyers and staff encourage you to read our Car Accident Testimonial Pages simply by clicking here.
An Injury that is quite common in car accident and motorcycle accident cases is back injury. Back injuries are a consequence from sudden jolts that occur in car, motorcycle, truck, bicycle, pedestrian and fall accidents. Ordinary back injuries include bulging discs, herniated discs, ruptured discs, lumbar strain/low back strain, spinal fractures and paralysis. All these injuries rage from torn muscles to a complete loss of function in parts of the body. Our lawyers and staff are aggressive in representing your rights and compassionate on helping you through your devastating accident and make the process trouble-free for the victims and their families. If you or someone you care about sustained any back injuries from any car accident or other personal injury accident in Malibu, Santa Monica, Los Angeles or anywhere in California, please contact us now, as well as for referrals to doctors who may possibly provide treatment without expecting any payment until the claim is resolved.
The Law Offices of Gary K. Walch offer you the strong advocacy that you need when you or a loved one has been through a devastating car accident or other personal injury accident in Malibu, Santa Monica or anywhere in California. It is our job to best represent your interests and aggressively pursue your rights. Our staff handles accidents involving car, motorcycle, truck, bus, train, bicycle, pedestrian, hit and run, uninsured motorist (UM) and much more. Call us for an absolutely FREE consultation to review and analyze your car accident or other personal injury case. For your convenience you don't even need to leave the comfort of your own home. Just like many of our clients you can do everything by telephone at 818.222.3400 or toll free 866 INJURY 2 (465879 2), email (info@WalchLaw.com) or simply complete our very easy to use contact form.
FREE CONSULTATION- NO FEE UNTIL YOU WIN!
EXPERIENCE YOU CAN TRUST
Client Reviews
You guys did a great job in settling my case! Hope you all do well and prosper. Thank you for a job well done.
Jackie C.
We had two prior attorneys who were unable to settle our car accident case. We then hired Gary and Robert Walch and they not only got us both great settlements, but personally spent time with us explaining everything clearly. We couldn't be happier. Thank you!
A.M. and M.A.
Dear Gary, I just want to thank you for working so hard on my case! I know at times we were a bit difficult, but you did a great job. I thank you and your son for good results. I will pass your number on to any one that I run across who may need a PI attorney! I send you warm regards
Julie B.
Dear Gary, I just wanted to tell you how much I appreciate all your efforts on my behalf. The car accident was a very traumatizing experience for me. But knowing that I could trust you and your son, Robert, helped alleviate my fears and worries.
Carmella C.
Thank you for all of your hard work and thank you for making it so easy over e-mail for me. I'm a busy working mom of an Autistic 5 year old son and you guys were great. I will definitely recommend your services to family and friends.
Edna G.