Laurel Canyon Car Accident Injury Lawyer
Over 45 Years of Experience You Can Trust!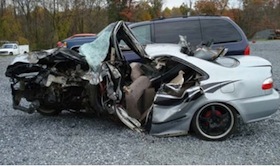 Our Laurel Canyon car accident lawyers and law firm provide expert personal injury legal services for those injured in auto, motorcycle and other accidents, and for the relatives and families of those killed in car and other accidents for wrongful death claims, on or near Laurel Canyon, California, a neighborhood located in the City of Los Angeles, California, near Studio City and North Hollywood in the San Fernando Valley and to the south in West Hollywood and Los Angeles. If you had a car accident or other personal injury claim on or near Laurel Canyon Blvd. or anywhere else in California, please contact our injury attorneys and legal team now for a completely FREE CONSULTATION. Laurel Canyon Boulevard is an important traffic route between West Hollywood and Studio City and unlike many canyon neighborhoods, Laurel Canyon has houses lining it most of the way north up to Mulholland Drive. With it twists and turns, compounded by frequent construction and slippery streets when it rains, Laurel Canyon is the scene of many serious car accidents.
Car accident advice
Obtain and keep the following in your car or other motor vehicle: Cell telephone, paper and pen or pencil, camera to photograph all involved vehicles, people and scene, flashlight and first aid kit and other emergency gear such as cones and flares.
Check everyone involved for any injuries and if anyone needs urgent medical care call 911 for assistance.
If the accident is not your fault, we advise you to call the police and obtain a police report to confirm same.
When appropriate, move all vehicles to a safe position or area and do not place yourself in any danger. Turn on the vehicles' hazard flashers and use other warning devices, such as cones, if available and if safely can be displayed.
For additional help and source: Law Offices of Gary K. Walch Car Accident Advise
---
California Pedestrian and Bicycle Safety Statistics
Bicycle fatalities increased 13.2 percent from 99 in 2010 to 114 in 2011
Pedestrian fatalities increased 3.9 percent from 601 in 2010 to 625 in 2011
Pedestrian fatalities age 65 and older increased slightly from 150 in 2010 to 151 in 2011
A Laurel Canyon car accident can be dangerous, traumatizing and fatal for the victims involved and can result in painful injury so it is extremely important to have an experienced car accident lawyer on your side. Our more than 45 years of experience and success in handling car accident and other personal injury cases in Laurel Canyon and throughout West Hollywood, Studio City and California has given us the recognition of PERSONAL INJURY LAW FIRM OF THE YEAR 2011 and two of our attorneys, Robert Walch and Gary Walch, were each selected as Top Lawyers in California (Highest in Ethical Standards & Professional Excellence). Our aggressive but compassionate attorneys and staff have resolved thousands and thousands of car accident and other injury cases and work extremely hard to make the claims process trouble-free for our clients, the victims and their families. We invite you to visit our new and updated Car Accident Web Site.
Over $100,000,000.00 in funds has been recovered by The Walch Law Corporation for its clients; and our firm also offers the victims of car accidents assistance with medical care (regularly without any payment until the case is resolved), specialists, property damage repair and settlement. You can find out more about what our clients have to say about us on our Car Accident Testimonial Pages simply by clicking here.
An Injury that is a common car accident claim is back injury. Back injuries are a consequence from sudden jolts that occur in car, motorcycle, truck, bicycle, pedestrian and fall accidents. Ordinary back injuries include bulging discs, herniated discs, ruptured discs, lumbar strain/low back strain, spinal fractures and paralysis. All these injuries range from torn muscles to an absolute loss of function in parts of the body. Our lawyers and staff aggressively represent your rights and provide the compassionate help you need when you have been through any devastating back injury. Our entire firm works tirelessly to make the process trouble-free for the victims and their families. If you or someone you care about sustained any back injuries from any car accident or other personal injury accident in Laurel Canyon or anywhere in California, please contact us now, as well as for referrals to doctors who may possibly provide treatment without expecting any payment until the claim is resolved.
The Law Offices of Gary K. Walch offer you the strong representation and advocacy that you need when you or a loved one has been through a difficult car accident or other personal injury accident in Laurel Canyon, Los Angeles or anywhere in California. It is our job to best represent your interests and aggressively pursue your rights. Our staff handles accidents involving car, motorcycle, truck, bus, train, bicycle, pedestrian, hit and run, uninsured motorist (UM) and much more. Call us for an absolutely FREE consultation to review and analyze your car accident or other personal injury case. For your convenience you don't even need to leave the comfort of your own home. Just like many of our clients you can do everything by telephone at 818-222-3400 or toll free 866 INJURY 2 (465879 2), email (info@WalchLaw.com) or simply complete our very easy to use contact form.
FREE CONSULTATION- NO FEE UNTIL YOU WIN!
EXPERIENCE YOU CAN TRUST