Corona Car Accident Injury Lawyer
Car Accident Wrongful Death, Personal Injury Lawyers, Corona, California
Corona, Riverside California Car Accident Lawyers with Over 45 Years of Experience and Success Rate of More Than 98% in Winning Wrongful Death and Catastrophic Injury Accidents!
If you were injured in a Corona or Riverside personal injury collision with a car, truck or motorcycle, please see the following now: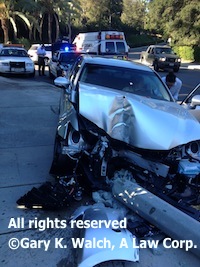 Corona, Riverside California car accident collisions cause devastating injuries and overwhelming problems for victims and their families. Our car accident lawyers for Corona and Riverside genuinely care about our clients and work extremely hard to obtain the results they want.
Corona car, tuck & motorcycle accidents cause serious injuries, substantial property damage, and sometimes even wrongful death. Our Corona wrongful death, car accident personal injury claims attorneys have a success rate exceeding 98% in handling thousands of personal injury cases in Corona, Norco, Riverside, San Bernardino, Los Angeles and throughout Southern California.
Corona fatal car crashes and road traffic accident statistics for 2014
Fatal accident count: 12
Vehicles involved in fatal accidents: 18
Fatal accidents involving drunken persons: 7
Fatalities: 14
Persons involved in fatal accidents: 33
Pedestrians involved in fatal accidents: 1
Source: City Data
With more than 45 years of experience in handling thousands and thousands of car accident, motorcycle accident, truck accident and pedestrian accident injury claims, we are a law firm of accident claim lawyers with an excellent support staff offering our legal services for Corona, Riverside, Norco, Chino Hills, Yorba Linda, El Cerrito, Blythe and other places in Southern California.
Our expert car accident injury lawyers know how to handle car accident cases, from getting damaged cars towed and repaired, total loss damages settled, free rental cars, immediate medical care without payment due until your case is resolved, to maximum settlements while providing legal advice and clear explanations of the claims process all along the way. To see what other clients have said about our injury accident attorneys please visit our testimonial section.
There are many time rules (including the California statute of limitations) and procedural rules (e.g., in car, motorcycle and truck insurance policies, the California DMV, etc.) so please do not wait. Please do NOT risk making a mistake or blowing a time deadline. Please contact us now at 818-222-3400 or 1.866 INJURY 2 (after hours just dial "1") for your FREE & CONFIDENTIAL consultation and case evaluation.
What Our Corona & Riverside Wrongful Death & Personal Injury Lawyers Assist You With
Our Corona, Riverside California car accident personal injury lawyers are caring and compassionate towards our clients, yet extremely aggressive against the responsible parties' insurance company. We genuinely care about our clients and we help our injured clients deal with the following:

Medical Care: Personal injury car accidents in Corona, Riverside CA often leave victims dealing with serious injuries that require regular medical care and physical therapy attention. Our Corona lawyers and support staff help clients obtain medical care, including doctors, physical therapists, specialists such as orthopedic and plastic surgeons, neurologists, dentists and psychologists; usually without any payment until the claim is resolved. Moreover, clients can seek assistance for prescription medications, X-Rays, including MRI and CT scans, usually with no payment due until your claim is resolved.
Vehicle Repairs: Corona and Riverside car collision accidents can cause heavy damages to cars, trucks and motorcycles. Our Corona car accident lawyers and law offices help ith your vehicle repairs, total loss pay-offs, storage, towing; and if appropriate free loaners or car rentals.
Transportation to Doctor: Our Corona car accident lawyers assist clients in finding doctors, arranging appointments and, whenever appropriate, arrange transportation for injured clients to and from the hospital, medical clinic and other doctor and physical therapy appointments. If you need this help, please let us know.
Cash Advances/Emergency Loans: Corona, Riverside car accidents can exhaust your finances, especially with unexpected medical bills and added expenses to take care of at a time when you may miss out on work and suffer a loss of wages and earnings. Our experienced Corona car accident lawyers and law offices will assist you in receiving loans and advances to cover those additional expenses.
How to Contact a Corona Car Accident Injury Lawyer
If you or anyone you care about has been involved in a Corona, Riverside CA car accident or any motor vehicle collision, call us right now for your FREE & CONFIDENTIAL car accident personal injury consultation and advice.
You also may simply go to our contact us form and tell us about your car accident case.
You can look through our lawyer profiles and get to know our experienced and well-qualified lawyers. Furthermore, learn about the formalities, procedures, and rules associated with Corona and riverside personal injury and wrongful death claims by visiting our Car Injury Accident Web Site; and for more specific help about your particular car accident injury case please call us now at 818-222-3400 or 1.866 INJURY 2 (after hours just dial "1") for FREE & CONFIDENTIAL consultation on your car accident injury claim.
Remember, our car accident injury lawyers offer FREE legal consultations and evaluations on Corona, Riverside car accident claims and take our clients' cases on a contingency basis, which simply means there is NO fee until you WIN!
About Corona, California
Corona City, the Circle City, is located in Riverside County, California. Corona's downtown is circled by Grand Blvd., which is about one mile in diameter and quite unusual since it forms a perfect circle. The cities of Norco and Riverside lie to the northeast, Eastvale to the North, Chino Hills to the northwest, Yorba Linda and the Cleveland National Forest and the Santa Ana Mountains to the Southwest. The population in Corona as of the 2010 United States Census is 164,226. It has a total area of 38.9 square miles approx. And interestingly, it was originally in San Bernardino County.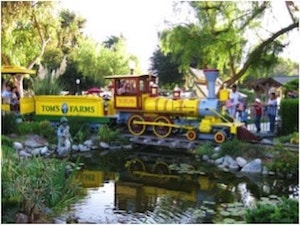 Corona, originally named as South Riverside, was founded at the height of the Southern California Citrus boom in 1886. The town of Corona was once the Lemon Capital of the World. The city derived its name from the famous layout on the street. The city of Corona has been popular among celebrities drawn to its upscale areas and relative privacy compared to Los Angeles. Corona experiences a Mediterranean climate that has mild winters and hot summers.
Corona is known for its educational infrastructure with 31 elementary schools in the city and private schools such as St. Edwards Catholic School and Crossroads Christian School.
Corona is and has been home to many famous people over the years including Desi Arnaz (husband of Lucille Ball), Travis Barker (drummer for Blink, etc.), Richard Dornbush (figure skater), Toy Glaus (baseball player for Angels), Joe Kelly (MLB starting pitcher), Denny Lemaster (another MLB pitcher) and many more.
Corona is served by these freeways: Chino Valley (SR 71), Ontario (I-15) and Riverside (SR 91).
Reasons to Contact Our Corona, California Car Accident Wrongful Death & Personal Injury Lawyers
Our injury accident attorneys and legal team genuinely care about our injured clients and their families. Here are some of our wrongful death & personal injury law firms' credits, awards and accomplishments.
Over a 4-decade-long excellent continuing membership with the California State Bar.
Won monetary settlements of over $100,000,000.00.
Graduated UCLA Summa cum laude (with highest honors from UCLA).
Served at Civil Litigation-Tort Section of Westwood Bar Association in the capacity of Chairperson
Graduated Phi Beta Kappa from UCLA, which is the Oldest Academic Honor Society in the nation.
Awarded Personal Injury Law Firm of Year in 2011 and 2014.
Awarded Personal Injury Attorney of Year in 2010 and 2014.
Selected Top Lawyers In California (Based on Highest in Ethical Standards & Professional Excellence)
Have better than 98% success rate in personal injury and wrongful death accident claims in Corona, Riverside, San Bernardino and Southern California.
Served at Los Angeles Superior Court in the capacity of Arbitrator.
Selected as Best Car Accident Attorneys in Los Angeles, 2017, by Expertise.
Our Corona, California Personal Injury and Wrongful Death Claims Lawyers Strive for Maximum Settlements and Justice for Clients
Corona, Riverside California car accidents can cause devastating and catastrophic injuries; resulting in personal injury and wrongful death cases. If you need legal help and want a FREE consultation now, here are some quick and very easy ways to Contact Us: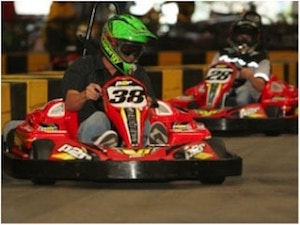 To contact our experienced car accident attorneys, please call on our toll-free number 1 866 INJURY 2 or 866-465-8792 (after hours just press 1) or on 818-222-3400 (again after hours just press 1)
For an easy, free and confidential consultation, fill-in the details in our contact us form and fill us in on your Corona, CA car accident or any other injury claim.
You can even send us an email 24/7 at info@WalchLaw.com.
As you see, we offer an absolutely FREE & CONFIDENTIAL consultation AND there is NO fee unless & until you win. We work on a contingency fee for our services on accident cases, which means there is NO FEE until You WIN, so you do not need worry about money!