Canoga Park Uninsured Motorist Accident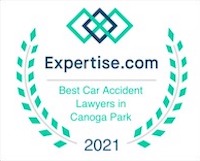 You've been in minor traffic accidents before, most of them in the "fender-bender" category, but last week was different. While you were driving through your Canoga Park neighborhood on your way to the local coffee shop, a car pulled out of a parking lot and onto the road just as you were passing. You didn't have time to get out of the way, so the car struck the side of yours, pushing you into oncoming traffic. You suffered a broken collarbone, concussion, multiple cuts and bruises, and a severely broken leg. Unfortunately, the guy who hit you doesn't have auto insurance. What now?
Thankfully, California law provides a safety net for these types of scenarios. But it's a little more complicated to figure out, so you'll want to work with a top Canoga Park uninsured motorist lawyer at Walch Law to maximize your settlement. Let's discuss the basics of uninsured motorist coverage under California law, including insurance policy requirements and how fault is determined in a motor vehicle accident.
California Uninsured Motorist Insurance Requirements
You know that a certain amount of liability insurance is required as a condition of operating an automobile or motorcycle in California. You have it, along with additional collision coverage in the event you're at fault for an accident that causes damage to your vehicle. Given how relatively common automobiles accidents are in California and throughout the country, this requirement fosters accountability among motorists. Injury accident settlements in California average $21,000 and most people would be unable to cover that without liability insurance.
Not everyone follows the law, as you've learned from experience. Drivers lacking adequate insurance may be ticketed and fined if they're unable to show proof of insurance during routine traffic stops. But if they're at-fault for an accident, they may face even steeper fines, the impoundment of their vehicle, and license suspension.
But that doesn't help you. You know you'll need plenty of medical care and also will incur other costs as your injuries impact your daily life. This is why California also requires motorists to carry coverage for uninsured and underinsured motorists, which protects those who are following the law from those who choose to skip out on it. The minimum coverage for accidents caused by uninsured/underinsured motorists is:
Bodily injury: $15,000 per person / $30,000 per accident minimum
Property damage: $3,500 minimum (may be waived if rejected in writing)
So, since the at-fault driver didn't carry the required liability insurance, you will be filing your claim with your own insurance company. But just because they're your insurer doesn't mean they'll be loose with the pursestrings. Your Canoga Park uninsured motorist lawyer will be able to help you with negotiations and damages claims.
Who's at Fault for Your Canoga Park Traffic Accident?
Regardless of whether you have the required amount of auto insurance, liability for motor vehicle accidents is determined in the same way. In most cases, one party (or sometimes more than one party) will be liable due to their negligence. To be negligent is to owe someone a duty of care (legal responsibility) to act in a safe and reasonable manner but then breach that duty, causing injuries. In your case, the at-fault driver pulled out into your lane without properly checking for traffic, causing the accident that resulted in your serious injuries.
Although most injury claims are settled out of court, you'll still need to demonstrate the other party's negligence in order to have leverage for negotiations. You'll have to prove the existence of the following legal elements of a negligence claim:
The at-fault driver (the defendant) owed a duty to the plaintiff
The defendant breached that duty
The plaintiff's injuries were in fact caused by this breach
The defendant's actions were the proximate cause of the injury(ies), meaning the injuries would not have happened if not for the defendant's negligence
The plaintiff suffered actual damages, such as bodily injury
Complications with Uninsured / Underinsured Motorist Claims
California law allows insurance companies to deduct from the balance any amount paid to the injured party by the at-fault party (such as out-of-pocket payments) or their insurance company (in the event they lack adequate coverage). For example, if your claim is for $50,000 and the at-fault party pays $10,000 out of pocket—leaving a balance of $40,000—your insurer may subtract the $10,000 you've already been paid from that balance and reimburse you just $30,000. That's why you'll want to speak with an attorney before accepting any out-of-pocket or partial payments.
Get Help From a Canoga Park Uninsured Motorist Lawyer
It's frustrating when others who share public roads don't follow the law, but fortunately there's a backup for when things go awry. However, you'll probably want to seek out legal counsel before filing a claim. The Law Offices of Gary K. Walch, a Law Corporation can help you get the compensation you deserve for your uninsured motorist claim. We are here to help you and know how to present the strongest case possible. Time is of the essence when it comes to these cases so if you want to get the most for your accident, you need to call us now. We are ready to get started as soon as you get in touch and look forward to hearing from you!