Canoga Park Uber Accident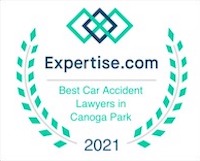 You love living in the San Fernando Valley and feel at home in the Canoga Park neighborhood, which boasts a diverse population and access to some of California's most beautiful parks and recreation areas. What you don't care for so much is the traffic, but that's just the reality of living anywhere in Southern California. Since you work from home three days a week, you started taking an Uber rideshare to your office instead of driving, which makes the commute so much more pleasant. But some drivers aren't so skilled, which you learned the hard way. Last Thursday, your driver stepped on the gas as the light was changing to red, failing to notice the car coming across the intersection.
The sound of crunching steel, shattering glass, and screeching tires still replays in your mind ever since the collision. Now you're in the hospital nursing head and neck injuries, bruises, a couple of broken bones. You probably wouldn't have survived if you weren't wearing your seatbelt. Once you're up to it, you'll want to hear about your legal options from an experienced Canoga Park Uber accident lawyer at Walch Law.
The following is a primer on how liability is established, claims are filed, and more when you're involved in an Uber accident, either as a passenger or another motorist.
Westlake Village Uber Accident Basics
The first thing you should do after any motor vehicle accident is to check on anyone who needs emergency first aid. Either you or the driver should call for emergency care and the police (to get an official report), if you're able to do so. Also (again, if you're able) the driver should move the vehicle out of the intersection and onto the side of the road to avoid additional problems.
If you're able to do get the following information, then you should do so:
Names and contact information of any drivers involved in the accident
License plate numbers and descriptions of all vehicles involved
Insurance information
Uber accidents require that you check the following information as well (this will help your attorney, but don't worry if you're too injured to do this after the accident):
Is the driver logged into their Uber app? If not, it will affect how your claim is handled.
If the driver was logged in and searching for riders (but didn't have passengers at the time), then Uber provides up to $50,000 per person in injury liability ($100,000 per incident) and up to $30,000 in property damage coverage.
If the driver has accepted a ride and is on their way or has passengers in the vehicle, they're covered by Uber for up to $1 million in liability coverage.
Uber's First Notice of Loss or Trip/Data Verification page allows you to verify the trip (you'll enter the Uber driver's name and other details).
Finally, you'll want to file an accident report with Uber.
Remember, your Canoga Park Uber accident lawyer will help you fill in the gaps if you're unable to get all of that information at the scene.
Uber Claims and Known Issues
Regardless of the nature of your accident, insurance companies are not in the business of doling out massive amounts of money. They're in it for a profit, so you'll want to protect your interests and never accept an early settlement offer if you haven't had the chance to fully assess your injuries and losses.
Uber provides some insurance coverage for their drivers (who are independent contractors, not employees) but they don't make the claims process easy. Be aware that your Uber claim could be difficult for a number of reasons, such as:
Denial of claim (regardless of evidence suggesting the driver's fault)
Failure to reply to claims or questions about claims
Low settlement offers
Downplaying the seriousness of the injury or claiming the injury was a preexisting condition
Your attorney will be able to get a complete picture of your losses, which will be monetized as damages in your claim. Injuries have a way of impacting facets of our lives we may not have considered at first, such as long-term disabilities, future earnings, and pain and suffering.
Get Professional Help From a Top Canoga Park Uber Accident Lawyer
You hoped to avoid the problems associated with commuting in Southern California but you didn't count on your driver being negligent. You have the right to seek monetary compensation for your losses. Call the Law Offices of Gary K. Walch, a Law Corporation today and put your mind at ease. We have been winning Uber cases since the company started and know how to go up against them and get you paid the most. Call us now to learn more.