Beverly Hills Car Accident Injury Lawyer
CAR ACCIDENT AND PERSONAL INJURY LAWYERS IN BEVERLY HILLS
If you were injured in any car, motorcycle or truck accident in Beverly Hills, California
Please contact your most experienced top Beverly Hills
Lawyers for an absolutely FREE consultation
Car, truck and motorcycle accidents causing serious personal injuries and sometimes even death resulting in a wrongful death claim by the family heirs of the person killed in the accident (who is called the decedent) can happen at any time.
Our Beverly Hills personal injury and wrongful death accident attorneys have won thousands of injury accident cases, we have 45 years of experience you can trust and rely upon, our entire team is dedicated to providing our clients with the best personal service and to obtain the very best results possible for our clients, and we have law offices in Beverly Hills, conveniently located at the corner of Beverly Drive and Santa Monica Blvd at 9440 Santa Monica Blvd, Suite 301, Beverly Hills, CA 90210.
The telephone number for our Beverly Hills law offices is 310.279.5255; and our toll free number is 1 866 INJURY 2 (after hours, press "1").
Our Beverly Hills personal injury and wrongful death lawyers and law offices continue to handle cases for all of Los Angeles and the entire state of California, and we continue to provide these special services for our clients injured in car collisions and other personal injury accidents:
AN ABSOLUTELY FREE CONSULTATION AND CASE EVALUATION WITH AN EXPERIENCED PERSONAL INJURY ATTORNEY
SPECIAL REFERRALS TO MEDICAL DCOTORS, CHIROPRACTORS AND PHYSICAL THERAPISTS FOR MEDICAL CARE
REFERRALS TO MEDICAL SPECIALISTS ON A LIEN BASIS – WHICH MEANS PAYMENT IS NOT DUE UNTIL YOUR CASE IS RESOLVED
WE WORK ON A CONTINGENCY FEE ON INJURY ACCIDENT CASES. THAT MEANS THAT THERE IS NO FEE UNLESS AND UNTIL WE WIN YOUR CASE!
BILLS MOUNTING UP? WE CAN PROVIDE CASH ADVANCES TO PAY YOUR BILLS AND OTHER EXPENSES (OFTEN VIA A FUNDING CO)
REPAIR OR REPLACE DAMAGED VEHICLE
RECOVERY FOR DIMINIMISHED VALUE – THAT MEANS, EVEN AFTER YOUR CAR OR OTHER VEHICLE IS REPAIRED, IT OFTEN IS WORTH LESS THAN IT WAS PRE-COLLISION. WE KNOW HOW TO RECOVER FOR THIS DIMINISHED VALUE FROM THE RESPONSIBLE PARTY AFTER YOUR CAR OR OTHER VEHICLE IS REPAIRED!
RECOVERY TO PAY HOSPITAL AND OTHER MEDICAL EXPENSES
RECOVERY OF LOST INCOME, WAGES, COMMISSIONS, BONUSES AND PROFITS
RECOVERY FOR ALL YOUR PAIN, SUFFERING, EMOTIONAL DISTRESS, DISABILITY, LOSS OF ENJOYMENT OF LIFE ACTIVITIES, INCONVENIENCE, LOSSES, EXPENSES, ETC.
TRANSPORTATION TO DRS, THERAPY AND OTHER HEALTH CARE PROVIDERS
WE SEEK THE MAXIMUM FINANCIAL RECOVERY FOR YOUR CLAIM
WE HAVE WON MORE THAN 98% OF OUR PERSONAL INJURY AND WRONGFUL DEATH CASES*
WE HAVE 45 YEARS EXPERIENCE WINNING PERSONAL INJURY CASES
WE HAVE WON THOUSANDS OF ACCIDENT INJURY CLAIMS
WE ARE A FAMILY LAW FIRM, OFFERING SPECIAL CLIENT CARE AND SERVICE, WITH ALL THE RESOURCES NEEDED TO WIN YOUR CASE, AND WE SEEK MAXIMUM RECOVERY ON EACH AND EVRY CASE FOR OUR CLENTS
YOU HAVE ASSISTANCE AND ACCESS TO OUR PARTNERS, OWNERS AND LAWYERS IN OUR LAW FIRM
Our personal injury and wrongful death law offices are centrally located between downtown Los Angeles and Santa Monica, serving accident injury victims in Beverly Hills, West Los Angeles, Los Angeles, Culver City, Mar Vista, Venice, Marina del Rey, the Miracle Mile, Westwood, Brentwood and Santa Monica. If you live in Beverly Hills or had a car accident in Beverly Hills, did you know the Beverly Hills Police Department has its own Policy Manual? It is available to the public and it is called (and can be viewed by clicking) the Beverly Hills Police Department, BHPD Policy Manual.
All sorts of interesting things can be found and learned in this Beverly Hills Policy Manual that relate to car and other motor vehicle accidents, including the Beverly Hills City Policy on Vehicle Pursuits (@ page 74), Use of Force (@ page 31), Death Investigation (@ page 165), Automated License Plate Recognition (ALPR) (@ page 275), Traffic Operations in general (@ page297-322), Traffic Collision Reporting (@ page 301), Impaired Driving (@ page 310), Traffic Citations (@ page 317), and Investigation and Prosecution (@ page 324).
According to City-Data.com, Beverly Hills is made up of about 35,000 residents, of whom about 16,500 are males and 18,500 are females. The median age of Beverly Hills residents is about 44.1 years of age, while the median age of those throughout California is only 36.5 years of age.
Beverly Hills includes zip codes 90035, 90210, 90211 and 90212. The average median household income in 2017 was about $110,481, up from $70,945 in the year 2000; and the estimated median household income in all of California was $71,805. Meanwhile the estimated median house/condo value in Beverly Hills in 2017 was over $1,000,000.00 (in 2000 it was about $993,600); and by comparison in all of California it was about $509,400.00.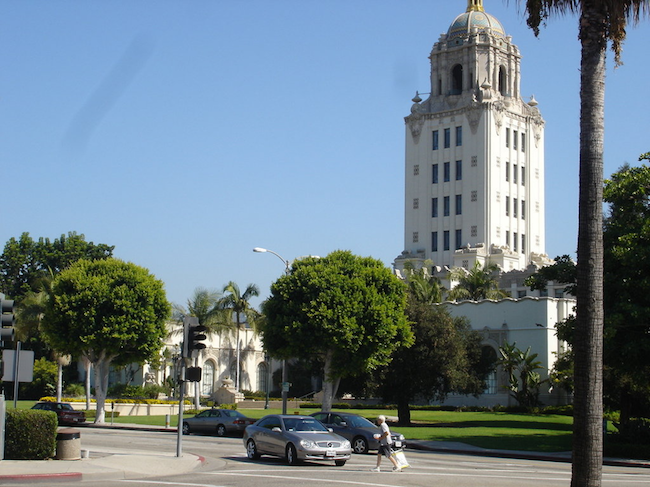 Beverly Hills City Hall, Beverly Hills, California
If you or someone you care about was injured in any accident in Beverly Hills, Los Angeles or California, please call us now at 1.866 INJURY 2 or contact us now for an absolutely FREE case evaluation and if we take your case there is NO fee unless and until you WIN!
So please do NOT wait or delay. Things only get worse if you delay. And there are time deadlines to file claims, file lawsuit and other procedural rules, some two (2) years post incident, but some even only six (6) months, and some even less!
Let us help you now with your car damage, medical care, filing your claim and handling this accident case every step of the way from beginning to end. With us you have 45 years of experience! Success in winning thousands of injury accident and wrongful death claims. And the personal attention that comes from a family law office and a winning team on your side!
PLEASE CONTACT US NOW –YOU WILL BE VERY GLAD THAT YOU DID!