Anaheim Car Accident Injury Attorney
Over 45 Years of Experience You Can Trust!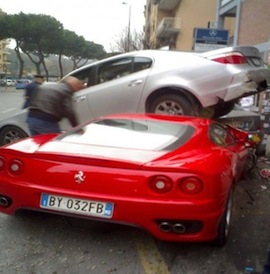 Our Anaheim car accident lawyers and law firm provide expert personal injury legal services for those injured in auto, motorcycle and other accidents and for the relatives and families of those killed in car and other accidents for wrongful death claims in Anaheim, California, a city of 336,265 people, located in Orange County, California. If you had a car accident or other personal injury claim in Anaheim or anywhere else in California, please contact our injury attorneys and legal team now for a completely FREE CONSULTATION. The city name is a combination of both the nearby river (The Santa "Ana" River) and the German word "heim" which originally means "home". Anaheim is the site of the Disneyland Resort, a world-famous grouping of theme parks and hotels which opened in 1955, Angel Stadium of Anaheim, Honda Center and Anaheim Convention Center.
2011 Fatal Car Crashes and Road Traffic Accidents in Anaheim, California
Fatal accident count: 16
Vehicles involved in fatal accidents: 29
Fatal accidents caused by drunken drivers: 5
Persons involved in fatal accidents: 37
Pedestrians involved in fatal accidents: 8
Source: City-Data
---
Car Accident Advice
Obtain the all names and contact information for the driver and owner of each involved vehicle, all witnesses and passengers, and their drivers' license numbers
Read and copy the other person's driver's license information; do not rely on them to give you the information as it may be wrong or false.
For each vehicle, record the license plate number; vehicle description including make, model, color, anything written on the other vehicle(s) such as company names, telephone numbers, logos or other identifying information; and the location of all property damage (both from this collision and any other damage that looks unrelated and/or pre-existing).
If the accident is not your fault we advise you to call the police and obtain a police report to confirm same.
For additional help and source: Law Offices of Gary K. Walch Car Accident Advice- http://www.walchlaw.com/lawyer-attorney-1774730.html
An Anaheim automobile accident is a serious matter that can lead to tragic outcomes and have long-lasting effects on the victims involved so it is very important to have an experienced attorney on your side. In our over 45 years of personal injury experience we have successfully resolved thousands and thousands of car injury accident cases and two of our attorneys, Robert Walch and Gary Walch, were each selected as Top Lawyers in California (Highest in Ethical Standards & Professional Excellence). Our aggressive but compassionate Attorneys and staff work extremely hard to make the claims process easy for our clients, the victims and their families. We invite you to visit our new and updated Car Accident Web Site.
The Walch Law Corporation has successfully recovered over $100,000,000.00 in funds for its clients and provided immediate help with medical care (usually without any payment until the case is resolved), specialists, property damage repair and settlement. We invite you to read our Car Accident Testimonial Pages by clicking here.
One common injury that victims of car accidents experience is whiplash. Whiplash is a non-medical term describing a range of injuries to the neck caused by or related to sudden and abnormal motion to the neck. A whiplash injury may be the result of abnormal stretching of the spine, mainly the anterior longitudinal ligament (the ligament that runs down the anterior surface of the spine) which is stretched or tears, as the head snaps backwards and then forward causing a whiplash type injury. These extreme motions push the neck muscles and ligaments beyond their normal range of motion, causing injury. The most common symptoms related to whiplash injury from accidents include neck pain and stiffness, headache, shoulder pain and stiffness, dizziness, fatigue, jaw pain, arm pain, arm numbness and weakness, visual disturbances, ringing in the ears and back pain. Proper medical care is necessary and our firm is able to provide names of multiple doctors to treat such problems without any advance payment.
The Law Offices of Gary K. Walch offer you the strong representation and advocacy that you need when you or a loved one has been through a difficult car accident or other personal injury accident in Anaheim or anywhere in California. It is our job to best represent your interests and aggressively pursue your rights. Our staff handles accidents involving car, motorcycle, truck, bus, train, bicycle, pedestrian, hit and run, uninsured motorist (UM) and much more. Call us for an absolutely FREE consultation to review and analyze your car accident or other personal injury case. For your convenience you don't even need to leave the comfort of your own home. Just like many of our clients you can do everything by telephone at 818-222-3400or toll free 866 INJURY 2 (465879 2), email (info@WalchLaw.com) or simply complete our very easy to use contact form.
FREE CONSULTATION- NO FEE UNTIL YOU WIN! EXPERIENCE YOU CAN TRUST