Citizenship
FREE Citizenship Case Consultation
1-866 INJURY 2
or
1-866-465-8792
Citizenship Immigration Lawyer Ready to Help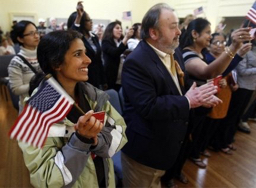 The 14th Amendment to The United States Constitution states, "All persons born or naturalized in the United States, and subject to the jurisdiction thereof, are citizens of the United States and of the State wherein they reside."
Citizenship can be obtained not only through the birth of an individual in the United States, but also by an individual born outside of the United States. An individual born outside of the United States can become a citizen through one of the two (2) following ways:
Naturalization: Naturalization is the process in which one who is NOT born in the United States embarks on to become a citizen. After an individual fulfills certain requirements established by Congress they may be granted Citizenship.
Qualifications for Naturalization
An individual who is a green card holder for a period of at least five (5) years may apply for naturalization to become a citizen if the following requirements are met:
At the time of filling the individual must be at least 18 years old.
The individual must be a green card holder for at least a period of five (5) years before the filling of the Application for Naturalization, Form-400.
The individual must have lived in the state or USCIS district with jurisdiction over the individual's place of residence for a period of at least three (3) months prior to the date of filing the application.
The individual must have continuous residence for at least five (5) years in the U.S. as a Green Card holder.
The individual must have been physically present in the U.S. for a period of at least 30 months out of the total five (5) years before applying.
The individual must continuously reside in the U.S. from the application date to the time of naturalization.
The individual must have the ability to read, write and speak English and have a grasp on U.S. history and government.
The individual must possess good moral character consistent with and attached to the principles of the Constitution of the United States.
If you think you can qualify to become a naturalized citizen, here are ten (10) steps to follow to start the process:
10 Steps to Become a Citizen - Naturalization Steps
Determine whether you are already a United States Citizen
Figure out if you meet the eligibility requirements to become a citizen, as set forth above
Download and prepare Form N-400
After you have finished Form N-400 Submit the Form
If biometrics is needed attend your biometrics appointment
Naturalization Interview
Written notice of decision for form N-400
Notice for you to take the Oath of Allegiance
Take the Oath of Allegiance
Understand what it is to be a United States Citizen
Click For more information on eligibility and the path for Naturalization
The Naturalization Test
There is a formal written test that one must take in order to become a United States Citizen. This examination tests you on English and United States history/government. For information on this examination and test preparation click here
Citizenship of their Parents: One may obtain U.S Citizenship through their parents after birth but before they reach the age of 18.
For more information click her for a USCIS Citizenship through Parents Chart
What to do Next to Become a United States Citizen
If you are not already a citizen of the United States and desire to become a citizen and believe you qualify to be a naturalized citizen or a citizen through the citizenship of your parents according to the steps set forth in this article or desire a FREE consultation to discuss this or any immigration issue, please contact us now.
We offer an absolutely FREE confidential consultation; and there are many easy ways to contact us:
Please call us:

Local: 818-222-3400 (after hours please dial 1)
Toll Free: 866-465-8792 (again, after hours, please dial 1)

Send us an email to info@WalchLaw.com
There is NO charge for our initial consultation – it is absolutely FREE and confidential!
There are long delays, time deadlines, quotas and other issues, so please do not wait.
We look forward to speaking with you and helping you resolve your citizenship and any other immigration legal problems.